Introducing Tweedy


by Hedgehog Fibres



Grace Notes
by Joji Lacatelli

A slightly boxy, dressy pullover with a cool construction and gorgeous twisted-stitch cables. Twisted rib edgings and tapered sleeves are distinctive details.
The back is worked flat from the top down to the underarms. Then, working from the shoulders downward, the right and left sides are worked in turn, down to the point that we join them with the back to knit in the round to the hem. Then sleeves are worked in the round, and the neckline is finished.
Perfect with Hedgehog Fibres Tweedy!

Take a Look at the Pattern HERE

Winters Beach Cardi
Shown in Hedgehog Fibres Tweedy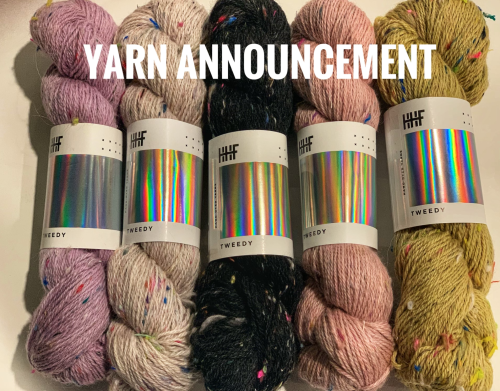 Tweedy

On a mission to be more environmentally friendly & minimize waste, Hedgehog Fibres has released Tweedy. Tweedy is a soft, DK weight yarn with cool, rainbow nubs of color. The bits are recycled ties from the dying process that have been re-carded, blended & spun into this unique yarn.
The blend of Falkland Merino wool, recycled wool & thread waste comes in one color; a warm grey with colorful speckles. Ideal for a cardigan, pullover or winter hat & mittens this yarn is simply gorgeous.
DK Weight 251 yards US 5-7 Needle
Take a Look at the Pattern HERE.
Tweedy Color Link HERE
---
---

Eucalan Wool Wash
Back in Stock
This no-rinse wash is non-toxic, biodegradable and phosphate free.
Your handknit pieces are safe and happy in its suds!
Explore the Options HERE