Introducing Tones
from Brooklyn Tweed
Tones is a versatile worsted weight, woolen-spun from fleece-dyed American Columbia wool into light and dark shades of round and bouncy 3-ply yarn that we overdye to create a harmonious palette of coordinated "tone pairs".

140 yards $13.75
Coroman Cabled Cardigan
by Irina Anikeeva
As the cold wind bites from the crashing shoreline, pull close your Coroman cardigan for layers of woolen warmth that withstand all tempests. Awash in perfectly weighted cables, this cozy staple boasts insulating, overlapping fronts and a knitted belt to cinch against the chill. Coroman is an essential classic for any handmade wardrobe in Tones' or Shelter's entirely American wool.
Hawser
by Jared Flood
A modern makeover of the traditional fisherman's sweater, Hawser's oversized cables on a lush background of double moss stitch are set off by a folded collar, deep hem and ribbed side panels in lofty woolen-spun Shelter or Tones. The breezy silhouette is thoughtfully balanced by trim drop-shoulders and slim sleeves for an easy-fitting garment in which to live, work, and play. This updated version offers a wider range of sizes, with options for A-line or straight body shaping and instructions for adjusting sleeve and body length.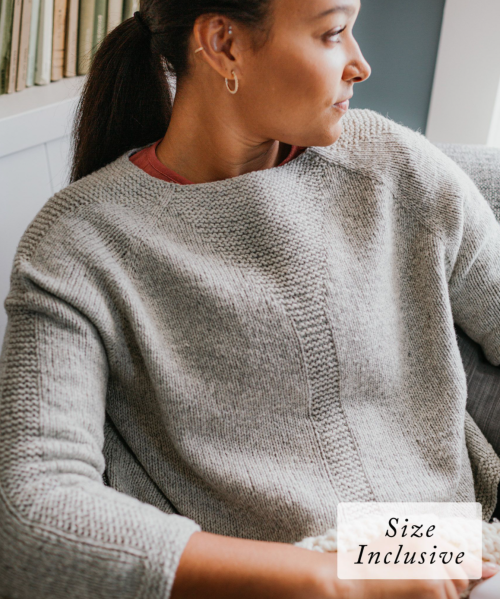 Bressen
by Alma Bell
Easy like Sunday morning and effortlessly elegant. A minimalist's delight, Bresson's clean lines and seamless, top-down raglan construction, subtly imprinted with angular panels of garter stitch, allow the simple beauty of its materials to stand out in lofty woolen-spun Shelter or Tones. Make your mark with the choice of a trim crew or cozy cowl neck and straight or A-line shaping, then breeze through your day, taking with you only that which brings you joy.
Brownstone
by Jared Flood
The quintessential wool pullover with a luxurious ribbed shawl collar never goes out of style. With iconic good looks in woolen-spun Shelter or Tones' heathered hues, Brownstone effortlessly layers over workweek button-downs and weekend t-shirts alike. Seamless, bottom-up raglan construction and an easy, straight fit refined with short-row shaping make Brownstone an instant classic to knit and to wear — this updated version offers a wider range of sizes and instructions for adjusting sleeve and body length.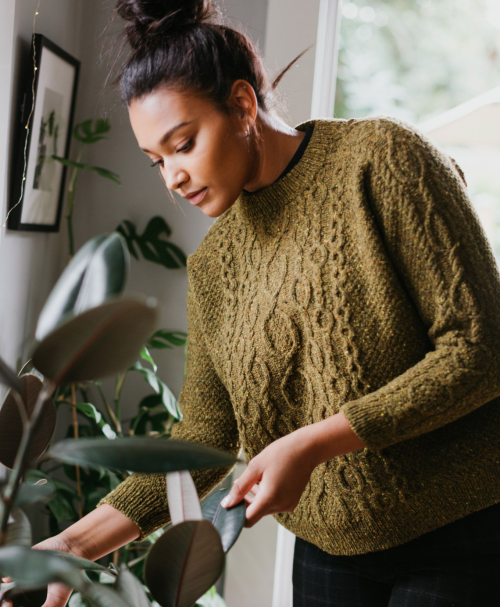 Ryllis
by Cheryl Troy
Rhyllis is the beloved companion that you wear with everything, from jeans to flannel pajamas. Warm and lightweight in woolen-spun Shelter or Tones, the trim saddle shoulders and cozy folded collar are accentuated by hearty moss stitch and cables with vintage appeal in a thoroughly modern top-down, seamless construction.
My First Raglan
by Brooklyn Tweed
Knitting that first sweater can feel intimidating, but this design will walk you through each step with helpful tips and tutorials along the way.
Take a Look at Tones HERE
---
---