Spring Class Sign up now available

s


Classes Start Monday March 21st
Our classes run for 8 weeks
$168 for in person
$120 for Zoom




Beginners Learn to Knit
Perfect for newbie knitters who've never picked up needles before. We'll teach you the basics, we'll go at your pace, and we are always patient & kind. Now is the perfect time to learn a new skill, and we have the perfect team to get you started.



Saturdays, 10:30am -12pm March 26- May 21 FULL
Saturday, 12:30-2:00 March 26- May 21

Beginners/Intermediate Combo Class
This crew is always a mixed bunch - and we like it like that. Our Combo Class includes absolute newbies and a bunch of knitters who are a lot better than they think they are. Whether you're just beginning or starting a new project that will require teaching support, we've got you covered here.

Tuesdays, 12:30-2:00 March 22- May 17
Wednesdays, 12:30- 2pm, March 23 - May 18
Thursdays, 10:30-12:00, March 24 - May 19 Full
Thursdays, 12:30 - 2pm, March 24- May 19
Fridays, 10:30 - 12pm, March 25- May 20
Fridays, 12:30-2:00 March 25- May 20

Intermediate Knitting
Our Intermediate classes are like a Choose-Your-Own-Adventure knitting class. We will help you choose something that's an appropriate challenge to help build your knitting skills. Or you can come in with a project that you just have to make, and our expert instructors will help you get there.

Tuesdays, 10:30 -12pm, March 22 - May 17
Wednesdays, 10:30-12pm, March 23 - May 18
Tuesday Evenings, 7:00-8:30 pm, March 22 - May 17
Wednesdays Evenings, 7:00-8:30 pm, March 23 - May 18 FULL
Thursday Evenings, 7:00-8:30 pm, March 24 - May 19 FULL

Needlepoint Class
For all levels of stitchers. Learn how to create beautiful needlepoint pieces
Mondays 11:30-1:00 March 21 -May 17
Mondays 1:00-2:30 March 21-May 17 FULL

Please sign up online or give the shop a call


---
---

Sock Class


Please Join Us for
Cuff-Down Fingering Sock Class


Our Cuff Down Fingering Sock Class is a 3-part session for intermediate to advanced knitters ready to make their first pair of socks or improve their sock-knitting technique. Using a fingering weight yarn will help you get through this project, and we'll discuss how to get a great fit. Our first class will cover the German Twisted Cast-on, sizing, and an overall view of the project.
Our second class will cover the heel shaping.
The third class will focus on a the toe shaping and Kitchener stitch.

Participants must have experience with small circumference knitting in the round and should be familiar with standard increases and decreases.
You will have a choice of your method of circular knitting including
double points, Flexi Flips, double circulars or magic loop.

Class dates and times are
Sunday, March 7 & 20, April 3. 1:00-2:30

The class cost is $75. Materials are purchased separately.
Please use yarn purchased from Wool & Grace for this class.

Class Instructor: Kathryn C
Sign up HERE

---
---


ChaioGoo Interchangeable Needle Sets Now Available



4" US 2-15
5" US 2-15
5" US 9-15

ChiaoGoo TWIST Red Lace Interchangeable Sets make growing your interchangeable needles that much easier! Each set includes needle tips made of surgical-grade stainless steel and 3 steel cables coated in nylon with lifeline holes that make knitting your next project a breeze. Each set also comes with cable connectors, tightening keys, a needle gauge, stitch markers, and end stoppers all put together in a lovely compact fabric case.

Take a Look Here


---
---

Needle Cases Back in Stock
Our most popular needle case will keep all of your circular needles organized and under control!
Know what you have with this lovely, handy little case.

Store multiple sets or circular needles in each labeled pocket.

Thirteen numbered pockets, five unnumbered

Two zip pockets for notions

US Numbers: 2, 3, 4, 5, 6, 7, 8, 9, 10, 10.5, 11, 13, 15
5 Fabrics Available

Shop Here


---
---
Brioni Pullover
Hakea Sweater
Noro Hanui
HAUNUI is a fusion of New Zealand Halfbred and Fine Romney stock, line-bred for generations to ensure the very highest quality. The sheep are never mulesed. From New Zealand, the fleece is exported to NORO, in Japan, where it is lovingly carded and spun. With great respect for the wool's natural qualities and as per Noro's exacting standards, fleece is never over processed.

Available in 5 neutral shades
---
---
Walker Bags are Back in Stock

Top: 8x9 Square Clutch
Bottom: 11x14 Double Zip


More sizes Available
Perfect for Your knitting or needlepoint notions and projects
Take a look Here
---
---
In Person Knit Night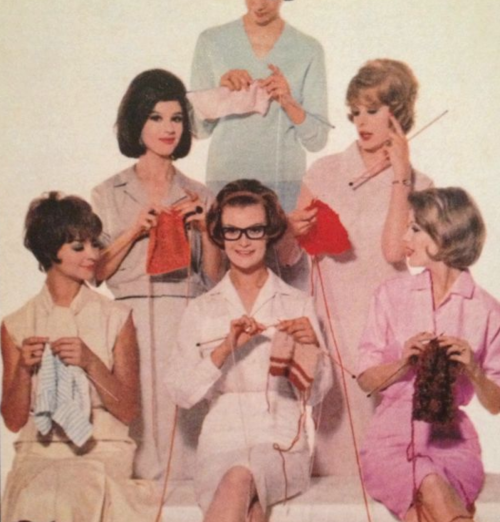 Please join us in person, tonight
Friday 5:30-7:30
Also available on Zoom
Link at the bottom
---
---

EZ PZ Ruler Gauge

EZ PZ Gauge magnifies your stitches at 2x magnification

so they're easier to see.

Marked every 1" on top and every 1/2 inch on bottom for a 4" section.

$13.00 Take a Look Here
---
---

Red Turbin
12x12 13m $152




Perfume Bottle
16x13 18m $152



Blue Medallion Floral
12x12 on 13m $195




Resting Sailboats
13m77
Take a Look Here


Yellow Beach Cottage
13m 77
Shop Here

---
---

Grace Sweater

Shown in La Pampa
Also great in Quarry



Introducing the Cooma Cowl Kit
From Emma's Yarn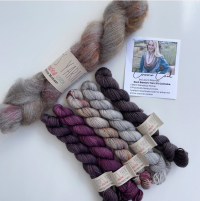 Four Colorways
Includes Pattern Download
Cooma is a light and airy cowl that provides lots of warmth. Holding fingering and mohair together is all the rage (and for good reason, it's stunning!) Use the cowl as a canvas for playing with color combinations, test out how each color interacts and practice holding the strands together while creating something of practical beauty
---
---
Knitting Tote Bags Back in Stock
From Artifact-New Color-Auburn
A Staff Favorite
Shop Here


---
---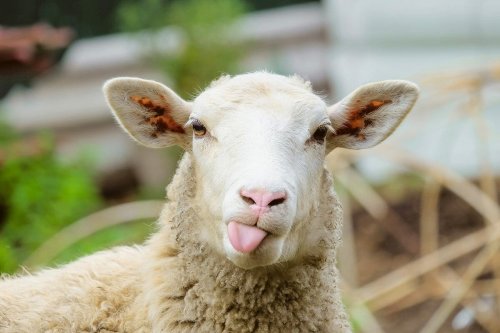 Friday Evening Zoom
5:30-7:30
Zoom Details