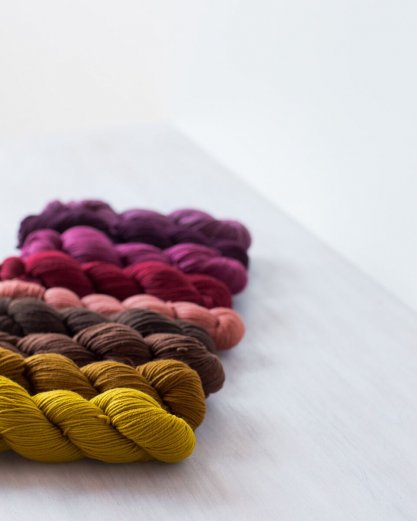 Brooklyn Tweed is Back and Bridge City is Out!

A big shipment of Brooklyn Tweed yarns have just arrived to Wool & Grace, just in time for the debut of Brooklyn Tweed's new Bridge City pattern collection.

This small collection of patterns includes engaging and thoughtful knits to boost your knitting skills. Ribsy (pictured below) is a fun twist on your classic ribbed beanie. Knit up with two skeins of Peerie, it's a weight that you can wear into cool spring days.




Etched (pictured below) is a gorgeous color-work vest with a high-low hem that will engage knitters with its unique construction and delight them with is dramatic finished product. Knit in Loft, this lovely layering piece is versatile and spans the season. Etched uses 5-9 skeins of its main color and 1-2 skeins of its contrast color.




Also check out our new favorite scarf, knit in Brooklyn Tweed's Peerie. Runnel (pictured below) is visually stunning and engaging to knit in its color and directional changes. Runnel can be knit as a cowl or scarf and can also be knit in Loft! Yarn requirements depend on yarn and project choice.





Click here to see all of our Brooklyn Tweed yarns, or stop by to see a number of our favorite pieces knit up in Brooklyn Tweed yarns!


---
---


Vest Bet

Shellie Anderson's new pattern, Astoria, is a crowd pleaser on so many levels. This versatile vest is easy to wear and layer. Astoria is a cropped turtleneck vest and quick to knit. Made using a mix of Shibui's Nest and Silk Cloud, with two strands of Nest and one strand of Silk Cloud, yielding a light-weight fabric at a bulky gauge. Astoria is knit in the round from the bottom up, split at the armholes with fronts and back worked flat. Join the shoulders and pick up and knit the deep, ribbed collar. Depending on size, you'll need 5-11 skeins of Nest and 2-3 skeins of Silk Cloud.

Click here to learn more about Silk Cloud and to buy online.
Click here to learn more about Nest and buy online.

You can learn more about Shellie Anderson's Astoria and buy online via Ravelry by clicking here.




---
---

Sunday Sweater for Sweater Weather

PetiteKnits Sunday Sweater is another satisfying project perfect for cozy days and sweater weather. This top-down sweater has a simple construction with a straightforward pattern. The folded neckline is a finished touch with a dash of technique, and the balloon sleeves are just-plain-fun to wear. Knit at a gauge of 14 stitches/4", pick your favorite chunky yarn for this wearable sweater, or mix up fibers to make your own Sunday Sweater a one-of-a-kind.

Margot made her Sunday Sweater (pictured below) using Lana Grossa's Fusione, which is soft to the touch with a nuanced color. Blue Sky Fibers' Techno is another awesome choice for this sweet sweater.




Click here to learn more about the Sunday Sweater project and to buy online via Ravelry.

Click here to check out the delicious Fusione yarn online!
Click here to check out long-time-favorite Techno online!
---
---
Katrinkles for Knitting Notion Fun!
We've restocked a bunch of our favorite Katrinkles knitting accessories and mini-tools, and we're delighted to introduce the Faux Suede Foldover Tags! These cute little tags come in all sorts of colors and add a little extra love to your hand knits - perfect for your knitted gifts. The Foldover Tags are $2 each - stop by to pick out your favorite colors!
Other Katrinkles Favorites include: mini tools, instruction stitch markers and more! Click here to see all our Katrinkles goodies available online.