Skip Navigation
Website Accessibility
Knitting Classes, Crazy Time, Baah Color of the Month, and More!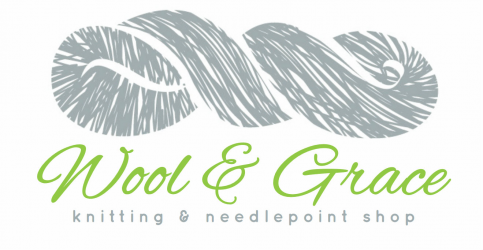 It's Crazy Time

A big batch of of Stonehedge Fiber Mill's Crazy Yarn has landed at Wool & Grace and do you know what that means? It means you're ready for a load of colorful, unexpected knitting fun. Knitters flock to this yarn to knit up favorites like Andrea Mowry's Shift-a-long hat or The Shift cowl. That said, this dk-dynamo can be used for everything that calls for some color adventure - or it'll add some adventure to one of those projects that never knew it needed it it.

The Crazy yarn is a dk-weight yarn made of Stonehedge Fiber Mill's mill ends, spun into unexpected and delightful skeins of yarn. It's dk-weight and each skein is 230 yards and $14.50. Since each one is one-of-a-kind, you have to stop by and pick out some crazy for yourself!


---
---
La Jolla's First Color of The Month of 2020!

It's here! Baah's first color of the month of THE DECADE has arrived at Wool & Grace. It's a beautiful blend of blues, fuchsias, lavenders and more. Pick it up and hold it in your hands and we're sure it'll make you feel happy.

La Jolla is a delightful fingering-weight yarn that is easy on needles and the eyes. It has a ton of twist that's easy to knit, and all those gorgeous colors knit into glorious color combos that have a texture and depth of colorful that comes through effortlessly. Our knitters love to use La Jolla for socks, scarves, shawls, sweaters and more! Each delightful skein is 400 yards and $30. Click here or stop by to see all of the gorgeous colors of La Jolla.


---
---


It's Time to Sign Up for Knitting Class!

There next session of our knitting classes begins the week of January 14. Have you signed up yet? Whether you're looking to bone on up your skills or cultivate some new ones, sign up now! Got a bunch who want to join you on a new knitting adventure? Check out our new Thursday afternoon session of our Beginners/Intermediate Combo Class - there's still space for you AND friends!

Beginners Learn to Knit
In this 8-week course, you will learn the basics including how to knit and purl stitches, how to cast-on and bind-off and how to seam. During the course you'll make a pair of fingerless mitt. Students often finish their first project before the end of the course and are ready to learn more skills including making increases and decreases, or working in the round. Available sessions include:
Tuesdays, January 14 to March 3, 12:30pm - 2pm
Fridays, January 17 to March 6, 12:30pm - 2pm

Intermediate Knitting
For knitters who have mastered the basics, you are ready for your own adventures in knitting. During this 8-week course, expert knitting instructors will shepherd you through the project of your choice. We will help you find a project suitable for your skill level, giving you the opportunity to learn and master new knitting skills. The Intermediate Knitting Class is a perfect opportunity to learn design elements like cables or color-work, about garment construction, or to learn new finishing techniques. Available sessions include:
Tuesdays, January 14 to March 3, 10:30am - 12pm
Tuesdays, January 14 to March 3, 7pm - 8:30pm
Wednesdays, January 15 to March 4, 10:30am - 12pm

Beginners/Intermediate Combination Class
This combination class accommodates combines our Beginners Learn to Knit with intermediate knitters. Instructors are here to teach all levels of knitters during this class time! This class is perfect for knitters looking for the consistency of a weekly knitting course. Beginners will learn the basics including how to cast-on, knitting, purling and binding off. Intermediate knitters can use this class as an opportunity to add to their knitting skill set with our expert knitting instructors there to guide you. Available sessions include:
Wednesdays, January 15 to March 4, 12:30pm - 2pm
Wednesdays, January 15 to March 4, 7pm - 8:30pm
*Thursdays, January 16 to March 5, 12:30pm - 2pm*

Please note classes are for students ages 18 and over. We request that you use yarn purchased from Wool & Grace for your in-class projects.


---
---

The New Girl Is Back: Loopy Mango Merino Worsted

We're not surprised, but Loopy Mango's Merino Worsted has been a huge hit at Wool & Grace. This worsted-weight yarn is soft, comes in dynamite colors, is totally versatile and a delight to knit with. Whether you decide to go Loopy with your pattern choice or go rogue, this yarn can do just about anything.

Loopy Mango's Rhinebeck Cardigan (pictured below) continues to be a hit among the Wool & Grace team and our knitters. This project knits up quickly using just 6 to 7 balls of Merino Worsted and knits up quickly on a US17 needle. Sound questionable? We thought so, too - but it really works and creates a soft, light and wearable sweater.

Each skein of Merino Worsted is 109 yards and $12. You can learn more and buy online by clicking here!


---
---

Extra Cabled Mitts

Looking for scrum-diddly-umptious knit? Us too. Looking for something that won't take forever? US TOO! Looking to knit with one of our all-time favorite yarns, Blue Sky's merino-alpaca blend, Extra? Ok, knitters, we've got you covered.

Check out the Extra Cabled Knits from Blue Sky Fibers. This small project is a perfect one for so many reasons. If you're an experienced knitter, you'll knit up this project with gorgeous yarn in a FLASH. If you're a newer knitter, the Extra Cabled Mitts are a great learning project that introduce a simple cable motif and small-circumference knitting in the round. Did we mention that when you're done they will keep your hands warm?!?!

This project requires just 1 skein of Blue Sky Extra and a US9 needle. This is a $3 pattern that you can buy online here. Each skein of Extra is 218 yards of buttery, alpaca/merino goodness and is $29.75. You can learn more and buy online here!


---
---
Winter Hours
| | |
| --- | --- |
| Monday | Closed |
| Tuesday | 10-5:30 |
| Wednesday | 10-5:30 |
| Thursday | 10-5:30 |
| Friday | 10-8:00 |
| Saturday | 10-5:30 |
| Sunday | 12-4 |