Skip Navigation
Website Accessibility
Gedifra Metal Tweed, Baby Blankets in Rios, Cocoknits Sweater Workshop, Needlepoint Tallis Bags and more!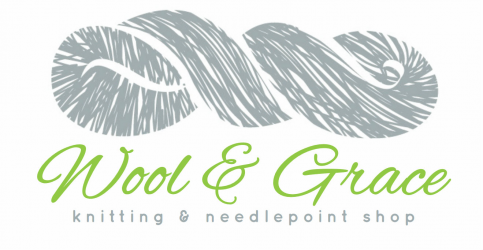 Gedifra Metal Tweed:
New Colors for a Fabulous Yarn

New colors of Gedifra's Metal Tweed have arrived to Wool and Grace and they're making us swoon. This yarn has texture galore: it has tweed, a gorgeous halo of color and a metallic thread to boot! It is an incredibly versatile yarn:you can play with your needle size to create a fabric that is dense enough for sweaters or light and airy.

Come and see how Metal Tweed holds up when knit on a US10 needle. We created a bias loop that can be worn as a cape, long cowl over your coat or doubled around your neck for a blustery day. Our Metal Tweed Bias Loop (pictured below) is easy knitting and uses just two skeins of this incredible yarn to create a high impact accessory. It's mindless knitting and makes a great gift!

Gedifra's Metal Tweed is a gorgeous blend of alpaca, wool, cotton, acrylic, nylon and polyester. Each skein is 247 yards and $15. Click here to see all the gorgeous colors and to buy online.


---
---

Gorgeous Tallis Bags from 3 Kittens Needle Arts

A beautiful shipment of timeless Tallis Bags from 3 Kittens Needle Arts has arrived to Wool & Grace. These beautiful hand-painted needlepoint canvases meld traditional and modern aesthetics to create an heirloom piece to hold your treasured tallit.

The Blue City of Jerusalem (pictured above) measures 12"x10" on 13 mesh canvas and is $140. Click here to learn more and buy online.

Jacob's Coat in Pastels (pictured below) measures 12"x10" on 13 mesh canvas and is $155. Click here to learn more and buy online.

Click here to see all the beautiful tallis bags available from Wool & Grace!


---
---

Schoppel Wolle's Edition 3.0

It's impossible to resist the color fun of Schoppel Wolle's Edition 3.0, so we keep getting more and we keep getting new colors! This incredible sport-weight yarn is marled with long repeats of variegated color. Because it's made of 100% machine washable merino wool, it's great for kids sweaters and accessories as well as socks. Our knitters have made countless Baby Surprise Jackets with this wonderful yarn, but we have to admit that we love how knitters are using it for some very popular "shift" patterns from Andrea Mowry like Shifty, The Shift and Shiftalong (all pictured below, and you can learn more about these projects in this week's blog).

Each abundantly fun ball of Edition 3.0 is 164 yards and $14.95. Click here to learn more and buy online!


---
---
Our first shipment of the Cocoknits Sweater Workshop sold out as quickly as it arrived, so we ordered a huge shipment to meet the demand! Remember, this book (pictured above) introduces knitters to

Julie Weisenberger's

thoughtful and ingenious method of knitting well-fitting, top-down seamless sweaters. The Cocoknits Method is unique but intuitive and gives sweater knitters tons of space to customize and finesse fit and other creative details. Weisenberger also fills the book with figure-flattering tips for all ladies' body types. The Cocoknits Sweater Workshop is $35. Click here to learn more and buy online.

Cocoknits Notions are carefully crafted to support this method of sweater knitting, from the Leather Stitch Holders ($24) to the Colored Stitch Markers ($10). Click here to see our entire selection of products from Cocoknits!


---
---
Honeycomb Baby Blanket in Malabrigo Rios
Everything about Malabrigo's Rios tells us that's a straightforward workhorse yarn. It's a worsted-weight yarn and therefore incredibly versatile, perfect for accessories, garments and blankets. It's machine washable and easy to care for. It's also hand-dyed which each skein like it's own little work of art. These beautiful hues imbue depth and character to the simplest of fabrics.
Because Rios does all of these things, we love this new Honeycomb Baby Blanket knit up in two colors of Rios. The hexagonal honeycomb motif knits up easily with a slip-stitch pattern, meaning you only have to work one color at a time. The Honeycomb Baby Blanket uses two skeins of your main color and one skein of your contrast color.
Each gorgeous hand-dyed skein of Rios is 210 yards and $16. Click here to learn more and buy online!
---
---

(pictured: Afternoon in Lisbon by Lisa Hannes)

Mosaic For All

This week's blog is about mosaic knitting which is beautiful and incredibly prevalent in knitting patterns today. It also happens to be an easy approach to color-work, with knitters working one color of yarn at a time, slipping stitches to create color-work motifs. Mosaic knitting also has a very versatile aesthetic. Because of all of these things, we think all knitters should give it a try. Click here to keep reading and learn a little more about mosaic knitting. We have lots of projects, big and small, to inspire you and help you dive in just as deep as you feel like going!



---
---
Fall Hours
| | |
| --- | --- |
| Monday | Closed |
| Tuesday | 10-5:30 |
| Wednesday | 10-5:30 |
| Thursday | 10-5:30 |
| Friday | 10-8:00 |
| Saturday | 10-5:30 |
| Sunday | 12-4 |