Budding for Babes


Juniper Moon's Bud has been a wonderful cotton to introduce at Wool & Grace this year. This incredibly soft, bulky-weight cotton comes in a wide palette of colors to work into pieces for everyone. We love Bud as sweater yarn: it knits up quickly into pieces that can be worn any time of year. We also love using it to knit into beautiful kids' knits. The bright colors make happy knitting for your favorite little ones.





Try knitting up the Blossom Baby Sweater from Churchmouse Yarns and Tea (pictured above). Bud will turn this versatile cardigan into a staple piece for any young one. The Blossom Baby Sweater comes in sizes 6-12 months and 12-18 months, and requires 2 or 3 skeins of Bud.




The Chevron Baby Blanket from Purl Soho is a timeless heirloom for all babies! This classic and adorable blanket is knit up in 5 colors - you'll need two of each color to complete the blanket!

Juniper Moon Bud has a delightful 109 yards in each skein and is $13.50 a skein! You can learn more and buy online by clicking here!


---
---
Cotton and Cashmere All Year Long

We're a little obsessed with Rowan's Cotton Cashmere. We used it to knit up our Linea Tee for our Linea KAL this spring, and it's become clear to us that this yarn is a dream for knitting up sweaters and accessories that you can wear throughout all four seasons. Cotton Cashmere is a supple dk-weight blend of the two fibers, 85% cotton and 15% cashmere. Earlier in the season we shared a couple great shawls using this lovely yarn with you. Now we want you to imagine it coming to life in sweaters that are a delight to layer anytime.
Sarah Hatton's Madras is an open cardigan for effortless layering anytime. It has a straightforward construction, knit flat in pieces and seamed together. Madras uses 7 to 10 balls of Cotton Cashmere.
Tiking is a classic crewneck pullover with a hint of texture. Three-quarter sleeves make it wearable anytime of year (or they can be lengthened easily). Another design by Sarah Hatton, Tiking is also knit flat in pieces and seamed together for a simple, straightforward construction. Tiking uses 6 to 9 balls of Cotton Cashmere.

Cotton Cashmere comes in 143 yard balls, each is $14.50. Click here to learn more about this lovely yarn or to buy online!
---
---


Ready for Class?

Our Fall knitting classes are almost full, but we have a few spots left in the sessions listed below. If you've been hemming and hawing or whether to sign up, don't delay and do it now! Our classes run for 8 sessions and are $160 for the 8-week session.
Perfect for newbie knitters who've never picked up needles before. We'll teach you the basics, we'll go at your pace, and we are always patient & kind. Now is the perfect time to learn a new skill, and we have the perfect team to get you started.
Tuesdays, 12:30pm - 2pm, September 10 - October 29
Saturdays, 10:30am - 12pm, September 14 - November 2
Beginners/Intermediate Combo Class
This crew is always a mixed bunch - and we like it like that. Our Combo Class includes absolute newbies and a bunch of knitters who are a lot better than they think they are. Whether you're just beginning or starting a new project that will require teaching support, we've got you covered here.
Wednesdays, 12:30pm - 2pm, September 11 - October 30
Fridays, 10:30am - 12pm, September 13 - November 1
Our Intermediate classes are like a Choose-Your-Own-Adventure knitting class. We'll often guide you for a project choice, helping you choose something that's an appropriate challenge to help build your knitting skills. Or you can come in with a project that you just have to make, and our expert instructors will help you get there.
Wednesdays, 10:30am - 12pm, September 11 - October 30
Drop-Ins Are Still Happening!
Our daily drop-ins are the perfect knitting fix - whether you need help fixing some mistakes or are ready to learn something new. Plus, they are running through the end of August. Come in Tuesdays through Saturdays from 10:30am - 12pm for knitting help and instruction. Classes are $20 each. Our table has been filling up, so secure your spot and sign up online right here!
---
---
We Need You To
Clear The Cubbies!
Our Clear the Cubbies Sale is still going on, with wonderful yarns here and new yarns being added to the sale cubbies!
Since summer is still here, we think you should take advantage of the opportunity to snag some of Juniper Moon's Neve while you can! We love this versatile, worsted-weight cotton yarn. Its chainette construction makes it easier on the hands and needles than your typical cotton. Practically perfect for baby items, we also think its a lovely choice for tops and sweaters, as well! Try knitting up Pam Allen's Togue Pond or Elizabeth Smith's Mira (both pictured below) in this cool cotton. Each cotton-y skein of Neve is 222 yards and $8.40 on sale!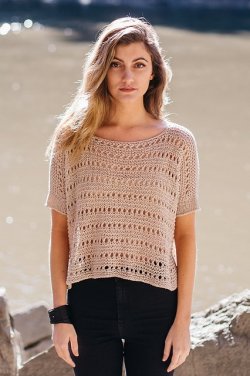 New to the Clear the Cubbies Sale is Wool & the Gang's Kinda Magic Sock Yarn. This miraculous printed yarn knits into a colorful leopard-print pattern. All you have to do is knit a pair of socks in stockinette stitch! Click here to get your magical sock yarn online and on sale!
Can't remember what else is on sale? Here's a reminder!
Kathmandu – 30% off, $17.50/skein
Big Freakin' Wool – 50% off, $10.50/skein
Misty Wool – 50% off, $10/skein
Neve – 30% off, $8.40/skein
Dromedary – $13/skein
Stargazer – 50% off, $10/skein
Criative DK – 30% off, $11.20/skein
Cobasi – 50% off, $5.60 – $6.50/skein
Odin – 50% off, $8/skein
Regia Tutti Frutti – 30% off, $13/skein
Baby Cashmerino Solids & Tonals – 30% off, $7.35 – $8/skein
Falkland Aran – 30% off, $18.20 – $18.70/skein

Kinda Magic Sock Yarn, 30% off, $13.30