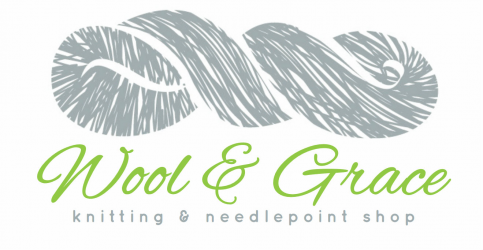 Feeling Crazy?


Feeling unpredictable, unique or like a big softy? If so, you should check out Stonehedge Fiber Mill's Crazy Yarn, which is back in stock at Wool & Grace - because this wondrous yarn is all of those things!

Crazy yarn is how this wholly American yarn company makes the most of its fibers. Stonehedge Fiber Mill uses mill ends to spin together one of a kind skeins of marled color craziness! Made from sheep raised in the US and milled in Michigan, if you know this company you know their yarn is soft like your favorite sweatshirt. Crazy yarn is a sport/dk-weight yarn with each 230 yards in each skein. Each Crazy-Wonderful skein is $12.

We like to make everything from scarves to sweaters with this wonderful yarn, but right now we're loving Andrea Mowry's The Shift. Don't belabor your color choices too much - just pick three skeins of this awesome yarn and let your stitches fall in to place.


---
---
Sample Alert!

We have a handful of new samples in the shop that you should definitely come and check out, and we want to introduce a few to you here!

We knit up Joji Locatelli's Hipster Cowl (pictured above) using 3 skeins of Madeline Tosh Vintage. We loved this project for a bunch of reasons. Knitting with Vintage is an absolute dream with gorgeous hand-dyed hues that add a ton of texture to your fabric. The Hipster Cowl is knit in a combination of garter stitch and a textured pattern. Enjoy some relaxing, mindless garter stitch - and right when that gets a little boring your ready for some textured fun!

We also knit up Vertices Unite by Stephen West (pictured below) using 6 colors of Shibui Birch. We knit up the larger size of this shawl, and opted to make the last section in a new color, making it possible to complete this project with 1 skein of each of the 6 colors. Vertices Unite is deceptively easy - with lots of garter stitch. Shaping is achieved with increases/decreases or the easiest of short rows! This FO in Birch is softer than soft and an absolute dream. This project is very forgiving (of mistakes!) and there's room for lots of color creativity, mixing yarns and textures galore!
---
---


Travel Size Stitches from Elizabeth Bradley Mini Kits!

We just received the most adorable bundle of needlepoint kits from Elizabeth Bradley - adorable because of their diminutive size. Elizabeth Bradley Mini Kits measure 6"x6" on a 10"x10" canvas with 10 mesh canvas. All threads and needles required to complete the project are included in these kits, which are $84 each (please note cost does not include any finishing required).

These kits are perfect projects for that vacation downtime, and given their size they're easy to travel with!

Click pics to shop online, or click here to see all of our needlepoint kits (big and small!) available from Elizabeth Bradley!



Is anyone else having a crazy summer? Some of us knitters are, and in light of all the madness, we're turning to some cashmere for pure knitting comfort and kindness. We are crazy about Anzula's Serenity - their fingering weight cashmere which is sublimely soft and comes in a range of sophisticated hand-dyed hues. This week's blog explores how we can give ourselves a little TLC with a small, cashmere project. Click here to keep reading and figure out how to be good to yourself with a little cashmere knitting.


---
---


New Colors of Noro Ito!

We never expected to love Noro's Ito as much as we do. When it turned out that Noro would be making new colors to be released this summer, we had to go back for more. These beautiful colors have been dribbling in since the beginning of July, and they continue to make us swoon. Ito is a gorgeous variegated wool yarn that comes in magnificent 437-yard balls of divinely colorful yarn. Each bountiful ball is $45.

You can do anything with this yarn: use 1 ball to knit a simple shawl or scarf, or use a few to knit up a sweater. Our current obsession is mixing two colors of Ito to knit up a Nightshift (pictured below, pattern by Andrea Mowry) like our new shop sample!

Want to love Ito as much as we do? Click here to learn more and buy online!


---
---
Summer Hours
| | |
| --- | --- |
| Monday | Closed |
| Tuesday | 10-5:30 |
| Wednesday | 10-5:30 |
| Thursday | 10-5:30 |
| Friday | 10-8:00 |
| Saturday | 10-5:30 |
| Sunday | Closed |