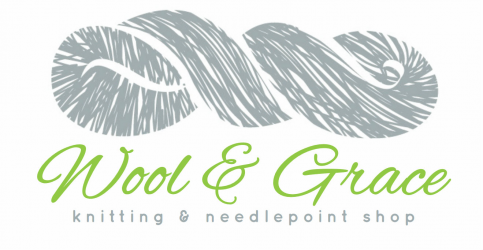 Hey Baby!
Baby Blossom DK Is Here!
We love the effortless magic of Hayfield's Baby Blossom Chunky so much that we decided to bring the DK-weight version of this yarn into Wool & Grace. Just like it's chunky sister, Baby Blossom DK is a self-patterning yarn that creates a dainty printed effect as it knits. There are tons of patterns for his yarn. Plus, each skein has a whopping 362 yards of yarn. This acrylic/nylon blend is meant to go in the washer and dryer, which means that it's easy to care for - a must for kids garments! Click pics to learn more, or click here to see all of our favorite products from Hayfield's Baby Blossom line!
Each magical skein of Baby Blossom DK is 362 yards and $8.00


---
---
Bee One With Your Needlepoint

With all the flowers starting to bloom, we're feeling grateful to the bees and all their hard work bringing color to spring. Channel their springtime productivity with some beautiful bee-inspired needlepoint canvases!

Bizzy Bee (pictured above) is a hand-painted needlepoint canvas from Pewter & Pine measuring approximately 5.5" x 5.5" on 13 mesh canvas and is $78.

The Bee & Hive Brick Cover (pictured just below) is a charming hand-painted needlepoint canvas from J. Child Designs. It measures approximately 13" x 9" on 13 mesh canvas and is $115.

Bee in The Moment (pictured at bottom) is a whimsical, hand-painted needlepoint canvas by Cheryl Dunlap. It measures approximately 7"x9" on 18 mesh canvas and is $90.

Click pics to learn more and buy online!


---
---


Walker Bags Are Back!

A new big batch of bags from Walker San Francisco has arrived at Wool & Grace. We love these durable nylon mesh bags. They come in all shapes in sizes, perfect for storing everything from yarn balls to notions to your biggest needlepoint, knitting and crochet projects. Stop by to see the entire selection and pick up yours before they're gone!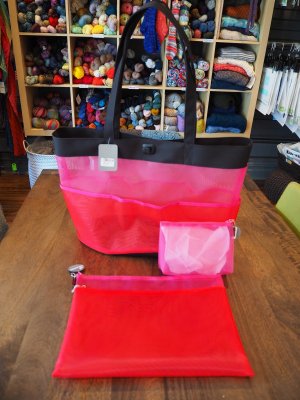 ---
---
For some reason, warm weather and the sea makes us appreciate stripes more than usual, so this week's blog delves into some of our favorite new and old striped knitting patterns. We've got Breton-inspired sweaters big and small, and some lovely shawls and wraps that will channel those Breton vibes as well. Click here to keep reading and get inspired!



---
---

Wrap Up in Simone

We are in love with Shibui's Simone pattern. This simple wrap elegantly mixes Shibui's beautiful warm-weather yarns Reed and Rain into this sophisticated and versatile piece. Simone is knit up in wide chunks of each yarn held single. The wrap version of Simone uses 4 skeins of Rain and 3 skeins of Reed and is worked up on a US6 and US7 needle. Plus, the Simone pattern is free with purchase of yarn at your LYS!
Rain (pictured just below) is a worsted-weight chainette cotton with a bit of sheen for a sleek, sophisticated look. Each skein is 135 yards and $19.50.
Reed (pictured at bottom) is a fingering-weight linen that is exceptionally smooth and soft. Each skein is 246 yards and $20.
Click the pics to learn more and buy online!
---
---
Winter Hours
| | |
| --- | --- |
| Monday | Closed |
| Tuesday | 10-5:30 |
| Wednesday | 10-5:30 |
| Thursday | 10-5:30 |
| Friday | 10-8:00 |
| Saturday | 10-5:30 |
| Sunday | 12-4 |