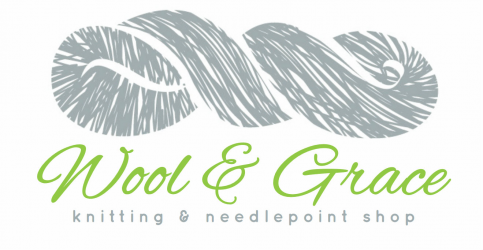 It's Crazy Time!
A new shipment of Crazy yarn from Stonehedge Fiber Mill arrived at Wool & Grace, and we're ready for more color fun! Each skein of Crazy is a one-of-a-kind, made with the mill-ends of Stonehedge Fiber Mill's soft, wool yarn. Broad bands of marled color make for effortless character in your hand knits.

Each skein of Crazy is 230 yards and $12!




This time around, we're super inspired to make Andrea Mowry's The Shift in this fabulous yarn. Three skeins will do the trick, making a fiddle-free accessory that can be worn any time of year. Be sure to check out this week's blog to see some fantastic examples of the Shift made in Crazy!




---
---
There's Still Time to Sign Up for Knitting Classes!
Our next session of knitting classes begins next week, and we still have availability in some of our classes! Ready to learn some knitting? See the classes below that still have availability. Click underlined links to learn more and sign up online!

Beginners Learn to Knit
In this 8-week course, you will learn the basics including how to knit and purl stitches, how to cast-on and bind-off and how to seam. During the course you'll make a pair of fingerless mitt. Students often finish their first project before the end of the course and are ready to learn more skills including making increases and decreases, or working in the round. Available sessions include:
Tuesdays, May 7 to June 25, 12:30pm - 2pm
Fridays, May 10 to June 28, 12:30pm - 2pm
Saturdays, May 11 to June 29, 10:30am - 12pm

Intermediate Knitting
For knitters who have mastered the basics, you are ready for your own adventures in knitting. During this 8-week course, expert knitting instructors will shepherd you through the project of your choice. We will help you find a project suitable for your skill level, giving you the opportunity to learn and master new knitting skills. The Intermediate Knitting Class is a perfect opportunity to learn design elements like cables or color-work, about garment construction, or to learn new finishing techniques. Available sessions include:
Wednesdays, May 8 to June 26, 10:30am - 12pm

Beginners/Intermediate Combination Class
This combination class accommodates combines our Beginners Learn to Knit with intermediate knitters. Instructors are here to teach all levels of knitters during this class time! This class is perfect for knitters looking for the consistency of a weekly knitting course. Beginners will learn the basics including how to cast-on, knitting, purling and binding off. Intermediate knitters can use this class as an opportunity to add to their knitting skill set with our expert knitting instructors there to guide you. Available sessions include:
Wednesdays, May 8 to June 26, 12:30pm - 2pm


Please note classes are for students ages 18 and over. We request that you use yarn purchased from Wool & Grace for your in-class projects. Starting in 2019, we no longer offer weekly make-up sessions. We will schedule a make-up session toward the end of this session.
---
---
Gorgeous new hues of Loopy Mango's Big Cotton are now available at Wool & Grace. These new shades scream for the warmer months and will knit up perfectly into some eternal summer knits. We love a striking combo of Misty Morning and Spicy Hot Pink (pictured below) for Loopy Mango's new version of their Sailor's Dream sweater - now written for Big Cotton! This easy-to-knit, easy-to-wear sweater uses 9-10 balls of the main color (depending on size) and 1 ball of the accent color. Each ball of Big Cotton is a super soft 48 yards and $16.50. Remember, Loopy Mango patterns are free with purchase of yarn! Click here to learn more and buy online!
---
---
Edition 3 Is Also Back!
Much loved and full of color, Schoppel Wolle's Edition 3 is also back in stock! We're loving a new color-way that features blues, whites and oranges! We've loved using this yarn to knit up a Baby Surprise Sweater, add some color to some Newfoundland Mitt and especially for some awesome socks! If you really want to make the most of all this color, try knitting up Andrea Mowry's Shifty Sweater in this color-soaked yarn! (Learn more on our blog!) Each delightfully colorful ball of Edition 3 is 164 yards and $14.95. Click here to learn more and buy online!

May Day from Baah La Jolla!

Baah's May Color of the Month has arrived at Wool & Grace, and it's budding with color like everything else in the month of May! A neutral background is the perfect canvas for bright flecks of pinks, reds, blues, oranges, and greens. Each smooth, buttery and bright skein of La Jolla is 400 yards and $30. Click here to learn more and buy online!
This bright and cheery arrival inspired this week's blog, which is all about color! Join us as we ponder mixing colors with reckless abandon. This week we're not concerned about being sophisticated or tasteful, we just want to have fun. Click here to keep reading and get ready for your own color explosion!
---
---
This Season's Favorite is Back In Stock!



This season's big hit, Gedifra's Riviera yarn, is back in stock! We think we know why you love this yarn so much: it's a sophisticated blend of cotton, silk and viscose with texture and sheen. It comes in a palette ranging from subtle to bright. Plus, it effortlessly knits into our stylish Riviera Tee that can be easily layered over ANYTHING and worn throughout the year.
Each ball of Riviera is 110 yards and $14. Our Riviera Tee uses 5 balls of Gedifra Riviera and is easily adapted. Click here to learn more and buy online! Pattern is free with purchase of yarn!


---
---
Spring Hours
| | |
| --- | --- |
| Monday | Closed |
| Tuesday | 10-5:30 |
| Wednesday | 10-5:30 |
| Thursday | 10-5:30 |
| Friday | 10-8:00 |
| Saturday | 10-5:30 |
| Sunday | 12-4 |