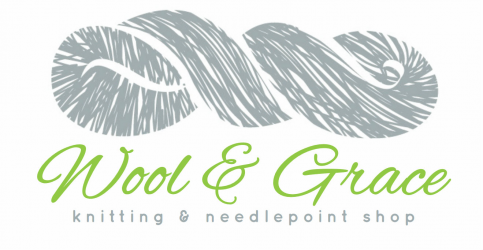 Late Spring Knitting Classes Sign Up Starts Today!
Our next session of knitting classes begins the week of May 7, and the time to sign up is NOW! Our knitting classes run in 8-week sessions. Each class is 90-minutes, and we have them running mornings, afternoons, evenings and weekends! Check out our schedule below to see which class and time suits you best! Click underlined links to learn more and sign up online!

Beginners Learn to Knit
In this 8-week course, you will learn the basics including how to knit and purl stitches, how to cast-on and bind-off and how to seam. During the course you'll make a pair of fingerless mitt. Students often finish their first project before the end of the course and are ready to learn more skills including making increases and decreases, or working in the round. Available sessions include:
Tuesdays, May 7 to June 25, 12:30pm - 2pm
Thursdays, May 9 to June 27, 12:30pm - 2pm
Fridays, May 10 to June 28, 12:30pm - 2pm
Saturdays, May 11 to June 29, 10:30am - 12pm

Intermediate Knitting
For knitters who have mastered the basics, you are ready for your own adventures in knitting. During this 8-week course, expert knitting instructors will shepherd you through the project of your choice. We will help you find a project suitable for your skill level, giving you the opportunity to learn and master new knitting skills. The Intermediate Knitting Class is a perfect opportunity to learn design elements like cables or color-work, about garment construction, or to learn new finishing techniques. Available sessions include:
Tuesdays, May 7 to June 25, 7pm - 8:30pm
Wednesdays, May 8 to June 26, 10:30am - 12pm

Beginners/Intermediate Combination Class
This combination class accommodates combines our Beginners Learn to Knit with intermediate knitters. Instructors are here to teach all levels of knitters during this class time! This class is perfect for knitters looking for the consistency of a weekly knitting course. Beginners will learn the basics including how to cast-on, knitting, purling and binding off. Intermediate knitters can use this class as an opportunity to add to their knitting skill set with our expert knitting instructors there to guide you. Available sessions include:
Wednesdays, May 8 to June 26, 12:30pm - 2pm
Thursdays, May 9 to June 27, 7pm - 8:30pm
Fridays, May 10 to June 28, 10:30am to 12pm

Please note classes are for students ages 18 and over. We request that you use yarn purchased from Wool & Grace for your in-class projects. Starting in 2019, we no longer offer weekly make-up sessions. We will schedule a make-up session toward the end of this session.

---
---
Last Call for KALs!

Don't forget that our first Linea KAL Meet-Up will take place this Saturday, April 27 at 1pm! Whether you're already cast on and you're coming for camaraderie, or you're still considering whether you want to take part in our Linea KAL, you should join us for this meet-up. We'll be comparing notes, discussing techniques (like German Twisted Cast-On and German Short Rows) and discussing yarn choices!
Click here to visit our blog and learn more about our Linea KAL.

Also, if you are participating in Brooklyn Tweed's #SkippKAL, be sure to stop by and share your delicious brioche knitting with us! We'll be celebrating all of this lofty brioche knit up in Brooklyn Tweed's Loft. Brioche questions? Our resident brioche enthusiast will be on hand from 1-5:30pm to talk technicalities of brioche! If you're already skipping along on your Skipp Hat, be sure to tag it with #skippKAL so our Brooklyn Tweed buddies can give you props on your handiwork!


---
---


Needlepoint Designs to Welcome Summer!

A resounding theme among our new crop of needlepoint canvases is that they remind us of summer and time at the shore. Check out some of our favorite, new canvases that embrace summery, beach themes!
Peace, Love and Sandy Feet is a hand-painted canvas measuring 7"x7" on 13 mesh canvas. It is $90. Click here to buy online or learn more!
Light House at the Harbor is a gorgeous hand-painted canvas measuring approximately 7"x5" on 18 mesh canvas. It depicts an idyllic shore scene that will bring back your favorite vacation memories. Click here to buy online and learn more!


Whalecome is a simple and sweet needlepoint that will take center stage at your entry. Invite summer and shore life with this darling and timeless hand-painted canvas. Whalecome 8.5"x11" on 13 mesh canvas and is $130. Click here to buy online and learn more!
---
---
What Can I Make With Anzula?
It's been a busy month at Wool & Grace, and we haven't had time to dwell on two beautiful new yarns at Wool & Grace: Anzula's Squishy and Serenity. We finally doing just that. This week's blog explores these beautiful yarns: what makes them so compelling and what projects will let them sing. Click here to keep reading and get inspired about the range of projects that will bring out the best in your knitting and these wonderful yarns.
We were so excited to receive Kokon Merino DK, and even more excited to get Isabell Kraemer's new pattern Mariechen on the needles with this amazing yarn. Lots of knitting enthusiasm means that our sample of this delightful, wearable sweater is ready for you to view at Wool & Grace! Stop by and see our Mariechen sample. Whether you decide to make one for yourself or get inspired to work with Kokon Merino DK, we think you'll love meeting Mariechen for yourself!

Mariechen is a top-down seamless sweater pattern suitable for intermediate knitters. A simple lace and texture pattern is easy to read so you don't have to stay tied to your pattern instructions. Kokon Merino DK is delightful to knit, with lots of twist and bounce. Its fabric relaxes and softens after blocking, so wait until you've finished to enjoy it's full beauty. The Mariechen pattern is approximately $6.50 on Ravelry. Each skein of Kokon Merino DK is 201 yards and $30. The Mariechen cardigan requires 5 to 9 skeins of Kokon Merino DK depending on size.
---
---
Spring Hours
| | |
| --- | --- |
| Monday | Closed |
| Tuesday | 10-5:30 |
| Wednesday | 10-5:30 |
| Thursday | 10-5:30 |
| Friday | 10-8:00 |
| Saturday | 10-5:30 |
| Sunday | 12-4 |