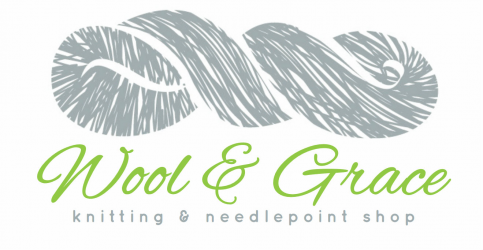 New Needlepoint Arrivals
We are bursting at the seams with new needlepoint arrivals. We are delighted to introduce beautiful, hand-painted canvases from smaller designers that are sure to bring color and lots of sunshine vibes. Check out some new canvases from Judi & Co (pictured above).

Dashing Dog (top left) measures 9.5"x11" on 13 mesh canvas and is $140.
This handsome devil will bring smiles through all of your stitching and beyond!

Carmen Miranda (top right) measures 11"x16" on 13 mesh canvas and is $175.
Her smile is infectious and is sure to bring joy wherever she goes!

We are also delighted to introduce EyeCandy Needlepoint, and we have some wonderful and fun needlepoint canvases from this new designer. We love this colorful pair of peacocks (pictured below). Each is 6.5"x7.5" on 18 mesh canvas and they are $85 each. Click the pics to go to the direct product info and to buy online,
or click here to see all of the new canvases from EyeCandy Needlepoint.


---
---
A New Project from Shibui


We have fallen for Shibui's new yarn Vine hard, and we are loving this new version of Torrent that Shibui has just released. Shibui Knits has taken their bias shawl and reworked it in a combination of Vine + Silk Cloud. We are dying to put our hands on this yarn combo and to see how it sings.

Torrent in Vine + Silk Cloud uses 2 skeins of Vine and 1 skein of Silk Cloud. It is worked on a US10 needle. Pattern is free with purchase!

Each crisp and distinctive skein of Vine is $20 and 160 yards. Click here to buy online.
Each heavenly skein of Silk Cloud is $26.50 and 330 yards. Click here to buy online!


---
---


New Arrivals from Pewter & Pine

We've been loving the modern, quirky and distinctive needlepoint canvases from Pewter & Pine, and we are excited to introduce some new designs to our Wool & Grace community! Striking hand-painted canvases from this young talent add some refreshing flair to your needlepoint queue.

Check out Owl and Bear (pictured above). Each canvas is 11"x12" on 13 mesh canvas and are $185. Click the pics above to see the product information!

We also love the fun colors and textile influences of Tally Ho Textile (pictured below). This beautiful canvas measures 11"x8" on 13 mesh canvas and is $165. We'd love to see this canvas finished into a distinctive zippered clutch! Click here to learn more and buy online!

Or click here to see all the wonderful canvases from Pewter & Pine!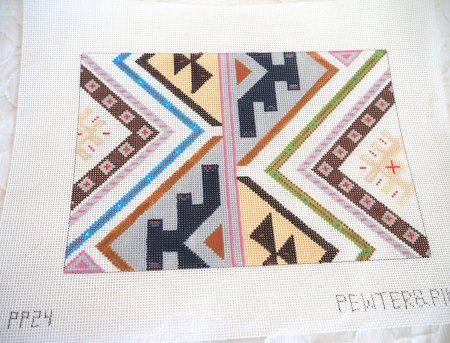 ---
---
For many of us, spring break is here! Thus begins the season of travel and travel stitching! This week's blog is all about stitching on the road. We discuss the type of projects that are perfect for relaxation and forgiving to all the distractions of travel. Click here to keep reading and to get ready for a season of travel stitching!


---
---
It's #KAL Time!
Have you heard about the Knit-Alongs happening this spring at Wool & Grace?

Our Linea KAL kicks off on April 27 at 1pm at Wool & Grace. While many of our knitters have already cast on for this project (we can see why - we want to start wearing it too!), our official cast-on day will be on April 27. If you need some technical help throughout this project, this KAL is is perfect for you! We'll be meeting up throughout the spring and early summer to see our knitters through the completion of this project! Click here to learn more on our blog, or email us at info@woolandgrace.com to sign up!

We are also ready to see your #skippKAL! This Brooklyn Tweed KAL features a new brioche hat pattern that can be worked as a beanie, a slouchy cap or a watchcap. Using Brooklyn Tweed's Loft, you can go solid, work in two-color brioche and/or stripe to your heart's content. There's so much room for creativity and fun with this simple little ribbed cap! Tag your Skipp hat on social media with #skippKAL and then stop by Wool & Grace on April 27 so we can take a pic of your Skipp hat and flaunt it with you! Need brioche help? Check out Brooklyn Tweed's post on brioche knitting on their website.

Also, through April 30 Brooklyn Tweed is offering a free digital download of the Skipp hat pattern with the purchase of two skeins of Loft. When you buy your Loft from Wool & Grace, we'll give you a coupon with your download code! Whether you buy online or in store, let us know that you want your Skipp coupon!


---
---
Spring Hours
| | |
| --- | --- |
| Monday | Closed |
| Tuesday | 10-5:30 |
| Wednesday | 10-5:30 |
| Thursday | 10-5:30 |
| Friday | 10-8:00 |
| Saturday | 10-5:30 |
| Sunday | 12-4 |