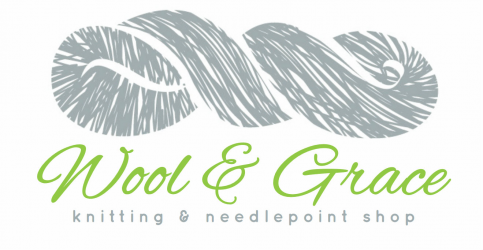 Kokon Merino DK
We are delighted to have Kokon Yarn at Wool & Grace. This magical yarn has garnered attention among indie designers over the past several months. Now that has arrived, it's easy to see why. Kokon Merino DK is a round, squishy yarn with tons of twist. It flies off your needles and is a absolute joy to knit. It's subtle hand-dyed solids give knitted fabrics a hint of depth and texture.

Isabell Kraemer has just released Mariechen (pictured below), a seamless cardigan pattern with a textured front featuring Kokon Merino DK. Click here to check out the Ravelry information on this delightful pattern, or stop by Wool & Grace to see the pattern and this wonderful yarn. Get ready to be inspired!

Kokon is a Dutch yarn company. Made from mulesing-free sheep raised in South Africa. Each skein of Kokon Merino DK is a joyful 201 yards and $30. Click here to learn more and buy online.


---
---

Tons of Needlepoint Arrivals

Fresh from a huge needlepoint show, we have tons of new needlepoint canvases pouring in to Wool & Grace. Check out our new arrivals from Anne Fisher Needlepoint Design. We love her preppy chic take on needlepoint. Small projects with straightforward stitching like eyeglass cases, ornaments and key fobs round out our selection of new arrivals from Anne Fisher. Click here to see our entire selection of Anne Fisher Needlepoint Designs.
Pictured above is the Double Black & White Zebra Eyeglass Case ($90) and the
Sled with Skate Ornament ($30)

We also received a huge shipment of new canvases from the Meredith Collection, including a bundle of belt canvases (pictured below). These timeless needlepoint canvases make for fun stitching and great gifts. Meredith Collection belts are approximately 39"x1.5" on 18 mesh canvas and are $150.
Click here to see the entire selection of new canvases from the Meredith Collection.
Click here to see our selection of needlepoint belt canvases!




---
---
Stop by to see the new marls from Brooklyn Tweed! We are excited to introduce glorious new colorways Caraway (above left) and Amaranth (above right) in Shelter. Also, Brooklyn Tweed has introduce the full range of marl colors for Loft!
To help bring in these beautiful colors for Loft, Brooklyn Tweed has released Skipp, a beautiful brioche hat project. Use one (or more!) colors of Loft for this timeless hat pattern. Work Skipp in single-color brioche as a solid or striped, or double the fun with two color brioche. The Skipp hat pattern is written with several modifications and combinations.
Through April 30, Brooklyn Tweed is offering a free digital download of Skipp when you purchase two skeins of Loft from Wool & Grace! Whether you stop by in store or buy online, let us know if you want your Skipp coupon.

Brooklyn Tweed is hosting a #skippKAL throughout the month of April! Tag your pics and be sure to stop by Wool & Grace on LYS Day, Saturday April 27 so we can take a pic of your Skipp Hat!

Click here to see new colors in Shelter!
Click here to see new colors in Loft!

If you haven't stopped by to see the Brooklyn Tweed Trunk Show at Wool & Grace, don't delay! This beautiful collection of designs by Michele Wang will be in store until Wednesday, April 17!
---
---
Have you joined our Linea KAL yet? We are so excited to cast-on for this modern, stylish and very wearable knit, designed by Shellie Anderson. Knitters are getting ready to #LineaKAL with us, using everything from Vine, Daisy, Cotton Cashmere and Cozette - to name a few!
KALs are a great way to enjoy learn techniques along with a great group of knitters. We hope you'll sign up and join us for our first Linea KAL meet-up on Saturday, April 27 at 1pm! Email us at info@woolandgrace.com or check out our blog on our Linea KAL for more info!
---
---
A Tale of Two Sweaters and Some Knitting Notes
This week's blog is a smattering of knitting notes. Read along with us as we discuss loving our knitting projects from casting-on to wearing-it-to-bits, or the delayed-gratification of a truly lovely but challenging project. We also talk about two sweaters that look very similar - one technically challenging while the other is (by comparison) a walk in the park. Click here to read more and get a dose of some knitting realities.


---
---
Spring Hours
| | |
| --- | --- |
| Monday | Closed |
| Tuesday | 10-5:30 |
| Wednesday | 10-5:30 |
| Thursday | 10-5:30 |
| Friday | 10-8:00 |
| Saturday | 10-5:30 |
| Sunday | 12-4 |