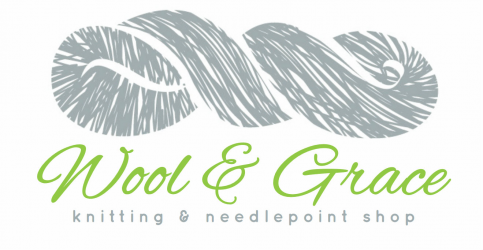 Shibui's Spring Collection
Last week we announced the arrival of Vine, Shibui's new yarn for spring. This week, we are ready to extol all of the gorgeousness of the Shibui Spring/Summer 2019 Collection and the loveliness that Vine has inspired across the knitting community.

Shibui has made it their business to bring us the finest fibers and to create classic and sophisticated knitting patterns that let these extraordinary yarns shine. This week's blog explores this collection of patterns, and looks to see how Vine (Shibui's extraordinary yarn that combines paper, cotton and silk) has inspired independent knitting designers to create some absolutely stand-out pieces.

Pictured at top, Simone is a new scarf and wrap pattern from Shibui that combines Shibui's Reed (fingering weight, smooth and soft linen) into bold stripes with Shibui's Rain (worsted-weight chainette of slick and soft cotton). The result is a refined layering piece with striking texture. The scarf version of uses two skeins each of Reed and Rain, while the wrap uses 4 skeins of Reed and 2 skeins of Rain. Each skein of Rain is $19.50 and 135 yards. Each skein of Reed is $20 and 246 yards. The Simone pattern is free with purchase of yarn, available at Wool & Grace.

Pictured below is Shellie Anderson's new pattern Linea featuring Vine. We love the modern, boxy shape and bold, irregular stripes of this summer pullover. This design has knocked our socks off and is now a favorite spring look. Read our blog for oodles of yarn ideas, or knit it up just as shown using Shibui's Vine. Linea uses 4-6 skeins of Color A and 3-4 skeins of Color B, depending on size. Each skein of Vine is $20 and 160 yards.

Pictured at bottom is Holiday, a long, feminine shell knit up in Shibui's incredibly soft, matte cotton yarn Fern. Holiday can be knit up as a tank (pictured) or with short sleeves. There are also directions to knit it with color blocks (as shown) or as a solid color. Holiday uses 5-8 skeins of Fern, depending on your choice of tank or tee. Each skein of Fern is 232 yards and $19.50.

Click the pics to check out Ravelry descriptions of these patterns, or click yarn names above to learn more about these amazing fibers and to buy online. Click here to read this week's blog about all of the hand-knit loveliness this season of Shibui has inspired!




---
---
Knit for Spring with Capri and Stromboli

Lana Grossa's new yarns, Capri and Stromboli, have just arrived at Wool & Grace and they happen to be perfect for your warm-weather knitting. These glorious blends of cotton, silk and viscose will become effortless and stylish sweaters and accessories to wear throughout the warm seasons. Check out Lana Grossa's new look book (with patterns!) to get inspired, or to pick your Stromboli or Capri project!

Capri (pictured below) is a smooth, worsted-weight blend of cotton, silk & polyamide. Work with it on its own, or couple it with other yarns (especially Stromboli) to add texture to its own clean, smooth stitches. Each skein of Capri is 165 yards and $14.

Stromboli (pictured below) is a dk-weight dynamo that will add texture and character to your spring and summer knitting. Let it play on its own or mix it with friends to have tons of fun. Stromboli is a beautiful blend of cotton, silk, polyamide and viscose. Each skein of Stromboli is 165 yards and $16.50.




The Lana Grossa Spring Summer 2019 Look Book includes a number of patterns written for these amazing yarns. Whether you use them as inspiration or choose to knit one of these projects as written, this serves as a great starting point for your Capri and Stromboli projects. Images from the Spring Summer 2019 Look Book are at bottom. This book of patterns is a steal at $10! Click here to buy online!


---
---
Now that we've had a decent spring teaser, we're ready to think about warm weather knits. We've also had a good amount of time to play with Bud, Juniper Moon's organic, chunky-weight Peruvian cotton! This delightful cotton is soft, a cinch to knit and it knits up fast. We've seen our knitters make up mitts, cowls and blankets with Bud. We've also knit up a sample of the Chaido Pullover. This fantastic summer sweater is knit up in pieces and sewn together. It also happens to be a wonderful first-sweater-project and is a piece to be enjoyed by everyone new knitters to our most expert stitchers! The Chaido Pullover requires 5-8 skeins of Bud and is free with yarn purchase. Each skein of Bud is a delightfully soft 109 yards and $13.00.
---
---


This Year's NJ Wool Walk Swag!
This year's NJ Wool Walk is just a few weeks away, and this year's swag has just arrived! This year, Wool Walkers can buy NJ Wool Walk and Wool & Grace enamel pins for $6 each!
The 2019 NJ Wool Walk takes place from April 4 to April 7. Eighteen yarn shops across New Jersey will be participating. Buy your passport now (available at Wool & Grace) for $6 to get access to sales at participating yarn stores! And remember, April is Autism Awareness Month, and $1 of every Passport purchase will be donated to Autism Speaks. Stop by Wool & Grace to pick up your NJ Wool Walk swag, buy your passport and get ready for Wool Walk fun! Click here to learn more about this year's NJ Wool Walk!
---
---
Spring Hours
| | |
| --- | --- |
| Monday | Closed |
| Tuesday | 10-5:30 |
| Wednesday | 10-5:30 |
| Thursday | 10-5:30 |
| Friday | 10-8:00 |
| Saturday | 10-5:30 |
| Sunday | 12-4 |