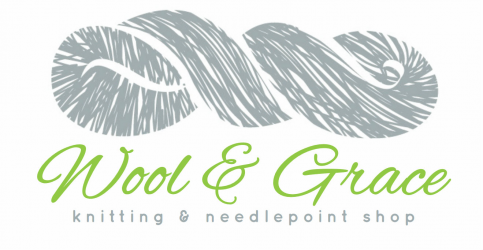 Cotton & Cashmere for Spring from Rowan
We are so excited to introduce Rowan's Cotton Cashmere to Wool & Grace this spring! This sublimely soft yarn is a dk-weight blend of 85% cotton, 15% cashmere. With just the right amount of twist and its perfect weight, it's an absolute delight to have on the needles, and is as perfect for springtime sweaters as it is for accessories.

We love Rowan's Henny Shawl and Ida Shawl (pictured below) which feature this delightful yarn, and both are free patterns. Stay tuned for many more ideas on what to knit up with this special yarn.

Each delicious ball of Rowan's Cotton Cashmere is approximately 137 yards and $14.50. Click here and the images to learn more and shop online!

---
---
New Arrivals from Rock Solid Designs

We've fallen in love with project bags from Rock Solid Designs. These handy yarn keepers have been designed with practicality and fun in mind. The Kellie Bag comes in small and medium sizes, in a plethora of cheeky prints. Each bag includes several smooth plastic snaps as fasteners. This keeps your yarn in check (no bouncing off the table or chair!) without getting snagged on any zippers or buttons. Plus, we love that you can keep multiple colors of yarn in each bag where they will stay in their own safe place and not get tangled in each other!

The Small Kellie Bag measures approximately 8"x3"x3.5" and is the perfect size for socks, shawls or even to use as a cosmetic case! The Small Kellie Bag is $32.

The Medium Kellie Bag measures approximately 10"x5"x5" and is the perfect size for accessories and small sweater projects. The Medium Kellie Bag is $39.

Click here or click the image above to learn more and buy online!


---
---


Have You Purchased Your NJ Wool Walk Passport?!?

The 2019 NJ Wool Walk is right around the corner, so don't delay and pick up your passport today! Don't forget, the Passport is your ticket to sales and prizes at participating NJ Wool Walk shops across the state! Each passport is $6, with $1 of each purchase going to Autism Speaks!
This year's NJ Wool Walk takes place from April 4 - April 7. Eighteen little yarn stores across the state are participating in this year's NJ Wool Walk. Like always, there will be sales at participating shops and the chance for prizes for NJ Wool Walk enthusiasts! Please be sure to stop by Wool & Grace and join us for the annual Wool Walk fun! Click here to learn more about this year's NJ Wool Walk!
---
---
Are you ready to knit up the most effortless tee for spring? Check out our new Riviera Tee. This versatile piece is as effortless to wear as it is to make. The Riviera Tee uses Gedifra's spring yarn Riviera, a worsted-weight blend of silk, cotton and viscose. Riviera has texture and sheen, and it requires little effort by knitters to create a distinctive and stylish fabric.
The Riviera Tee is knit up using 5 balls of Gedifra's Riviera. It is easily customized (an extra ball will add up to 3" in length, it's generous in width but easy to adjust!). The Riviera Tee pattern is free with purchase of yarn. Each ball is 110 yards and $14. To learn more and buy online, click here!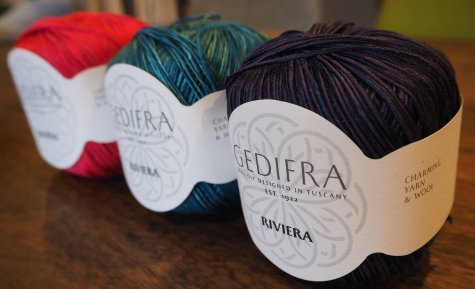 ---
---


Knitting for Wee Ones this Spring!

We have restocked the exceptionally popular Lambs Ear Cardigan Kit (pictured above) from Appalachian Baby Designs! This adorable little kit features their pure organic sport-weight cotton and is sized for 12, 18 and 24 months. The kit includes 4 balls of this American-made yarn and 5 wooden buttons. Each kit is $52. Click here and the image above to check out all the adorable projects from Appalachian Baby Designs.
The impossible cuteness of this kit has been infectious and we now our brains are spinning with knitting projects for the wee ones. Check out this week's blog for some wonderful new projects for babies. Since finding cute baby projects isn't that tough, we narrowed the scope. This blog features only free patterns and recommends only washable yarns! Click here and the image below to keep reading!
---
---
Shibui's Vine
Shibui's brand new yarn Vine has just arrived at Wool & Grace, and you've never seen anything like it. This dk-weight yarn is an intriguing blend of washed paper, cotton and silk. It knits up into a clean, crisp and subtly textured fabric. Knit with Vine on its own (as in the Mitchell Poncho, pictured just below) or mix it with other fibers to add more interest and texture to your knitting. Each skein of Vine is 160 yards and $20. Click here to learn more and buy online!


---
---
Winter Hours
| | |
| --- | --- |
| Monday | Closed |
| Tuesday | 10-5:30 |
| Wednesday | 10-5:30 |
| Thursday | 10-5:30 |
| Friday | 10-8:00 |
| Saturday | 10-5:30 |
| Sunday | 12-4 |