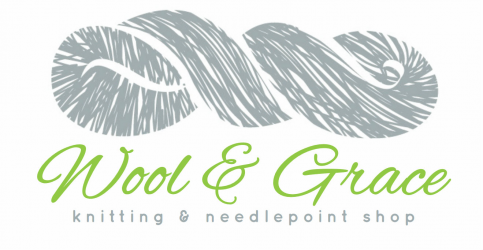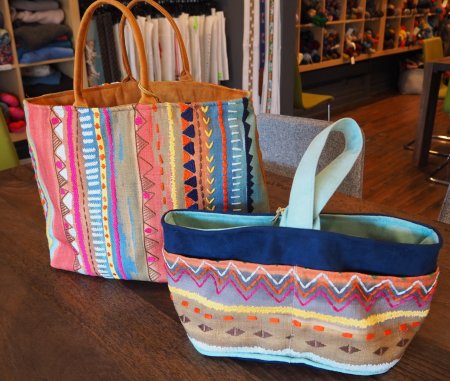 New Arrivals from Atenti
Colorful and versatile project bags from Atenti have arrived at Wool & Grace! Just in time for spring and with a big dose of color, these beautiful bags are a Wool & Grace favorite for toting your knitting and needlepoint projects and keeping them organized. Atenti bags feature gorgeous limited-edition fabrics and are hand-made in the US. Sturdy nylon interiors make these bags as practical as they are fun to carry.

This new shipment features:
Colorful Mezcal bags (pictured above, Dolly on left for $175 and Caddy on right for $78)
A New Herd of Llamamamas (pictured just below,
Hope Basket on left for $90, Grey Dolly at center for $169, Tall Caddy on right for $78)
The Roomy Satchel (pictured at bottom, Laramie on left, Manta on right, both $185)

Click here to see everything available from Atenti at Wool & Grace and to shop online!
Call us at 908.277.1431 or stop by to snag your Atenti Bag today!



---
---
Color for Days with Madeline Tosh
A beautiful and big shipment of yarns from Madeline Tosh has just arrived at Wool & Grace! We restocked in our favorites, Tosh Merino Light (pictured below) and Vintage (pictured above) in new colors that have us falling in love with these beautiful yarns all over again.

Vintage is a perennial favorite worsted-weight yarn. This hand-dyed workhorse is a super-wash wool with tons of twist so it flies off your needles. We love it for every member of the family: it's super-soft and easy to care for and it comes in a range of hues that delight every sense of style. Each skein of Vintage is 200 yards and $24.

Tosh Merino Light is a fingering-weight staple. It's super-soft and becomes the most gorgeous shawls, wraps, sweaters, hats, mittens and cowls. We love to mix it with other yarns (like the current fav Val Cowl) or to let its great personality stand on its own. Each skein of Tosh Merino Light is 420 yards and $24.

All yarns from Madeline Tosh are hand-dyed in Texas and come from ethically raised & sheared sheep in South Africa and Peru. Click the pics and links to see all colors available and to shop online!


---
---

NJ Wool Walk is Almost Here!

Mark your calendars! This year's NJ Wool Walk will take place from April 4th to April 7th, and we hope you'll be sure to stop by Wool & Grace! This year's NJ Wool Walk has 18 participating yarn stores across the state. We love the supportive community vibe that this yarn-filled weekend spreads throughout New Jersey. Be sure to pick up a passport to get access to sales and prizes at participating shops. Passports are $6 each. A $1 donation will be made to Autism Speaks for every passport sold.
---
---
Warm Up with Techno
A nice big shipment from Blue Sky Fibers has us fully stocked with Techno once again, and we're feeling inspired to work with this light and warm fiber again and again. Techno is a marvel, with its sturdy core blasted with soft alpaca to give you a light, fuzzy, soft and warm wool that is as delightful to knit as it is to wear. Knit up one of this year's favorite accessories, the Two Point Cowl from Churchmouse with three skeins of this wonderful yarn. Each soft/warm/light skein of Techno is $23.20 and 120 yards! Click the pics and links to learn more and buy online!

---
---


Wrapping Up Spring

This week's blog is inspired by a knitter's wedding request, but it got us thinking about capelets and shawls as indispensable layers to wear over our warm weather wardrobes. Join us as we look these versatile layering pieces. We discuss fiber choices that give these pieces legs in the spring and summer, being flexible with yarn weights, and how to wear them whether it's hot or cold outside. Click here to read more and learn how to work these pieces into your year-round knitting routine!
---
---
Are You An Aspiring Knitter?
Our next session of knitting classes has just begun! We opened a new session of Beginners Learn to Knit on Thursdays from 11am - 12:30pm and it still has room! If you're interested in learning to knit, click here or call us at 908.277.1431 to sign up!
Our knitting classes run in 8-week sessions and are $160/session. Materials are purchased separately. Please purchase yarn for class projects from Wool & Grace.
---
---
Winter Hours
| | |
| --- | --- |
| Monday | Closed |
| Tuesday | 10-5:30 |
| Wednesday | 10-5:30 |
| Thursday | 10-5:30 |
| Friday | 10-8:00 |
| Saturday | 10-5:30 |
| Sunday | 12-4 |