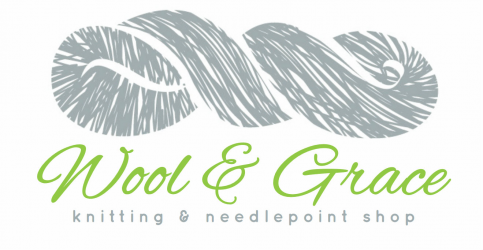 In Like a Lion, Out Like a Lamb
We are ready for spring at Wool & Grace, and now that March is here, we feel confident that this month will go "out like a lamb." Channel springtime vibes by stitching up charming and beautifully hand-painted needlepoint canvases that depict everyone's favorite spring animal: the lamb! Some of our favorites at Wool & Grace are pictured here!

Pictured above, Shore Sheep by Vicki Sawyer for Melissa Shirley Designs
measures approximately 10"x12.5" on 13 mesh canvas, $155

Pictured just below, Lamb with Glasses by Danji Designs
measures approximately 8.5"x8.5" on 18 mesh canvas, $95

Pictured at bottom, Lamb Ornament by Danji Designs
measures approximately 4" in diameter on 18 mesh canvas, $55



---
---
Knitting Classes Start Next Week!

Our next session of knitting classes begins the week of March 5, and while many have filled, we still have availability in some of our classes. If you've been considering joining our classes, don't delay! Also, new knitters take note - our Beginners Learn to Knit Classes have new sessions which still have space!

Knitting classes are $160. Our classes run in 8-week sessions and each class is 90 minutes. There will be no-weekly make-up sessions for our classes going forward. A make-up class will be scheduled at the end of the session.

You can learn more and sign up online by clicking the links of class titles below!

Beginners Learn to Knit
Tuesdays, 12:30pm to 2pm, March 5 to April 23
Thursdays, 11am to 12:30p, March 7 to April 25


Beginners/Intermediate Combination Class
Wednesdays, 12:30pm - 2pm, March 6 to April 24

Intermediate Knitting
Wednesdays, 10:30am to 12pm, March 6 to April 24

Materials for classes used by students must be purchased from Wool & Grace.
Knitting classes are for students ages 18 and up.


---
---


Discover Brooklyn Tweed's Worsted Spun Yarns

Brooklyn Tweed has a beautiful range of worsted-spun yarns that are delightful to knit and wear. In contrast to their woolen-spun yarns, Shelter & Loft, worsted-spun yarns have twist and bounce as you knit with them. Finished items knit and crocheted with these yarns will have beautiful stitch definition (whether for cables, texture or color-work) and a bit more drape than their woolen-spun cousins.
Peerie (pictured above) is Brooklyn Tweed's newest yarn, and is a fingering-weight yarn that comes in a broad range of colors perfect for your color-work projects. Each skein of Peerie is 210 yards and $15.25
Arbor (pictured just below) is a favorite among our knitters, being incredibly versatile and easy to work with. Knit up everything from blankets, sweaters, wraps, scarves, hats, mittens and more with this bouncy and addictive yarn, and choose from every color under the sun! Each skein of Arbor is 145 yards and $14.50.
Vale (pictured at bottom) is Brooklyn Tweed's lace-weight dynamo. It is soft and strong and will make the most treasured heirloom lace pieces. Also try doubling, tripling (or more) of this yarn to add marls, ombre effects or a little oomph to your knitted fabric. Each skein of Vale is 450 yards and $15.
---
---
Mark Your Calendar for the 2019 NJ Wool Walk!
Mark your calendars! This year's NJ Wool Walk will take place from April 4th to April 7th, and we hope you'll be sure to stop by Wool & Grace! This year's NJ Wool Walk has 18 participating yarn stores across the state. We love the supportive community vibe that this yarn-filled weekend spreads across the state. Be sure to pick up a Passport to get access to sales and prizes at participating shops. Passports are $6 each. A $1 donation will be made to Autism Speaks for every passport sold!
---
---


Blanket Knitting with Cascade 128

We've restocked Cascade 128 Superwash just as a new blanket pattern from Fifth Four Ten Studio was released on Ravelry! We love Cascade 128: not only is it terrifically soft and easy to knit, but it's easy to care for! You can put your timeless hand-knits made with this lovely yarn right in the washer and dryer!
Each skein of Cascade is 128 yards and $13 for solids, $14 for multis.
We love Fifty Four Ten Studios for her clean and sophisticated textures that she brings to her blanket and accessories patterns. All These Places is a new pattern that uses a bulky weight yarn (perfect for Cascade 128). A simple combination of knits and purls creates a texture that suggests a treasured woven basket. Plus, All These Places is sized for everything from a baby blanket to an extra-large afghan!
---
---
There's Always Time to Knit a Hat

This week's blog is all about hat knitting. Whether you're knitting a hat as a diversion from a big knitting project, as a way to learn a new technique, or simply to make something to keep your head warm, there's always time to make a hat. This rumination on hat knitting focuses on hats with thoughtful construction techniques, whether it involves steps to make a better fitting hat or design elements to make a unique and interesting looking hat. Click here to read more and get inspired for your next hat!


---
---




Laine 7 is Back!



Our first shipment of Laine Issue 7 flew out of the shop in 2 days, but we just got more! If you missed out the first time around, do not delay! Click here or stop by to pick up your copy before its gone! Need a reminder about what makes this knitting mag so special? Check out or blog on Laine 7 in all its knitting adventures!


---
---
Winter Hours
| | |
| --- | --- |
| Monday | Closed |
| Tuesday | 10-5:30 |
| Wednesday | 10-5:30 |
| Thursday | 10-5:30 |
| Friday | 10-8:00 |
| Saturday | 10-5:30 |
| Sunday | 12-4 |