Skip Navigation
Website Accessibility
Super Bulky Spunatneous, New Aalta Bags, Selfless Knitting, New Projects for Katia Cotton Merino and more!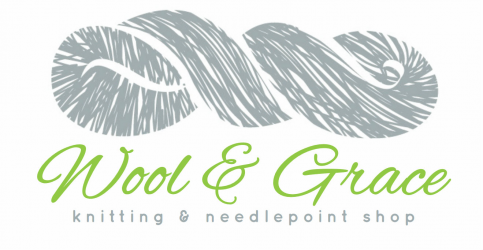 Back in Stock: Spuntaneous!
Cool neutrals in the super-soft, super-bulky Spuntaneous are back in stock! Anyone who's ready to knit up our favorite color block blanket should stop by and pick up yarn for this now!

Spuntaneous is ideal for projects to keep you warm. Incredibly soft on the hands and skin, it quickly knits up into cold weather accessories and blankets. Always a favorite at Wool & Grace, the Spectacular Spuntaneous Blanket (pictured below) uses 5 skeins of this wonderful wool: 2 skeins each of 2 different colors, and one skein of a third!

Each special skein of Spuntaneous is 109 yards and $25. Click here to learn more and buy online!


---
---
Aalta Baskets Are Back... and Big!

Our newest shipment of Aalta Baskets come in two beautiful blue hues and in generous proportions. But first, let's remind you why we love these bags so much!
1) Aalta Baskets are handmade in Pennsylvania
2) Aalta Baskets are made using carpet fiber remnants,
which means they are ultra durable and fully moth-proofed
3) Aalta Baskets come with sturdy leather handles
4) Aalta Baskets are beautiful!

The new dark blue set (pictured above) measure approximately
12" high x 11" wide x 9" deep (on left) and is $162
12.5" high . 14" w x 9" deep (on right) and is $165

The new light blue set (pictured below) measure approximately
9" high x 12" wide x 5" deep (on left) and is $148
10" high x 14" wide x 8" deep (on right) and is $158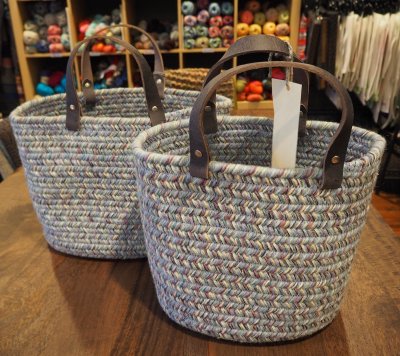 ---
---
Our favorite knitting needle cases from Della Q are back in stock at Wool & Grace! The tri-fold DPN & Circular case is a favorite among Wool & Grace staff and knitters because it has space for all of your circular and knitting needles. (One of us even managed to fit 50+ sets of circulars into this case!) . Coming in a variety of beautiful fabrics and colors, there's something to meet everyone's needs.
The DPN & Circular Case from Della Q ranges from $69 to $70. Pictured above is the new Blair fabric (on the left) and the Natural fabric (on the right). Click here to get your own DPN & Circular Needle case. Want to see what else Della Q has to offer at Wool & Grace? Click here to see our selection of handy cases from Della Q!
---
---
Cold weather got you down? Stitch warm thoughts by channeling summer vibes with Laura Megroz needlepoint canvases. We love the classic colors and stylized designs of her hand-painted needlepoint canvases. Painted onto 13 mesh canvas with clean lines, these canvases are great for all levels of needlepoint stitchers.
Life Guard Stand (pictured above) measures 12"x12" on 13 mesh canvas and is $150
Two Black Labs in a Boat measures (pictured below) 12"x8.5" on 13 mesh canvas and is $145
Click the pics for links to learn more or buy online!


Knit Selflessly

Last week our blog discussed the benefits of selfish knitting. Yes, we whole-heartedly believe in taking care of ourselves! Here's the thing: random acts of kindness and helping others makes us as humans feel good, so knitting selflessly is another great way to do something awesome for yourself.
This week's blog talks about various acts of selfless knitting, and an interesting local cause that is a great way to put some selfless knitting to work. Click here to keep reading, and to get those thoughtful needles stitching!
---
---
Tons of Blue Sky Fibers, Back in Stock!
All of the yarny loveliness from Blue Sky Fibers has been selling like hot cakes, but we just received a huge shipment of their beautiful yarns and kits to feed your fiber needs. Baby Alpaca, their sublime soft, sport-weight yarn is fully stocked so you can knit up a warm Weldon Wrap (pictured above) to get you through the rest of a cold winter. Each skein of Baby Alpaca is 110 yards and $13. 8 skeins of Baby Alpaca (and US 6 needles) are required to make the Weldon Alpaca Wrap!
Blue Earth Cowl Kits (pictured below), Nevis Cowl Kits (pictured below) and Sky Line Slouch Kits (pictured below) are also back in stock! These kits make great gifts or are perfect for your getaway knitting!
Blue Earth Cowl Kits are $145
Nevis Cowl Kits $80
Skyline Slouch Kits are $152.
Click pics and links to learn more and buy online. Want to see everything else we have to offer from Blue Sky Fibers? Click here!
---
---
New on Ravelry:
Two New Patterns for Katia Cotton Merino!
Heidi May released two new, darling patterns this week featuring one of our favorite yarns: Katia Cotton Merino. Check out this week's bonus blog about these two new patterns, a Wool & Grace favorite yarn, and May's understandably wide appeal to knitters and crocheters alike! Click here to read more!
---
---
Winter Hours
| | |
| --- | --- |
| Monday | Closed |
| Tuesday | 10-5:30 |
| Wednesday | 10-5:30 |
| Thursday | 10-5:30 |
| Friday | 10-8:00 |
| Saturday | 10-5:30 |
| Sunday | 12-4 |