Skip Navigation
Website Accessibility
Getting Organized, More Malabrigo, Selfish Knitting and a Whole Lot More at Wool & Grace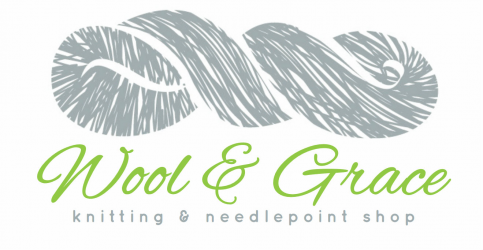 Getting Organized with CocoKnits
A big shipment of chic knitting notions has just arrived from CocoKnits, and we are so excited to get organized with our knitting!

Come and check out the new Accessory Roll (pictured above). Made of sturdy, washable paper, the Accessory Roll is comprised of an outer roll that wraps around four removable, envelope-style pouches that snap in and out of place. An interchangeable elastic band wraps around the entire package to keep everything in place. This sturdy and compact package has room for all of your knitting notions and measures 6.5"x2.5"x2.5". Washing the Accessory Roll will give it a worn look similar to leather.
The Accessory Roll is $38. Click here to buy online and learn more!

In addition, we have new JUMBO accessories from CocoKnits including their brand new Jumbo Stitch Markers and Jumbo Stitch Stoppers. These accessories are designed to accommodate up to a US19 needle.

Jumbo Stitch Markers come in packs of 30, 5 each of 6 colors. Each pack is $10
Jumbo Stitch Stoppers come in 3 sizes, 4 of each, 12 to a pack. Each pack is $13


---
---
New Colors of Heritage Prints

A shipment of Cascade Yarns brings us new colors of one of our favorite sock yarns, Heritage Prints. The effortlessness of this self-patterning yarn makes it easy to add interest to your hand-knit stapes. And while it goes without saying that it's perfect for socks, also consider knitting up hats for people of all ages (like the In Your Own Sweet Way hat, pictured above), and makes even the simplest baby sweaters absolutely delightful.

Heritage Prints is a blend of 75% super-wash merino and 25% nylon, for easy knitting, durability and care. Each skein is 100 grams, 437 yards and $15. Click here to learn more and buy online!


---
---
A big shipment of hand-dyed loveliness from Malabrigo has just arrived to Wool & Grace. New and favorite colors of Rasta and Rios are back in stock.
If you're in the mood to knit up something fast, warm and beautiful, pick up a skein or 4 of the ever-popular Rasta (pictured above). This super-bulky yarn is so soft and knits up into the most satisfying and beautiful knits. Make a hat, cowl, mitts or a scarf to keep you warm in this frigid weather! Each skein of Rasta is 90 yards and $22.
Rios (pictured below) is a favorite worsted-weight workhorse. Made of 100% super-wash merino wool, it is easy to knit with, easy to care for and absolutely beautiful. We love to knit up everything from hats and mitts to sweaters with this wonderful yarn, especially for the kiddos! Each skein of Rios is 210 yards and $16.
Pictures just give a taste of all the beautiful new colors of these wonderful yarns! Stop by to see us at Wool & Grace to see everything new from Malabrigo!
---
---


Time for Selfish Knitting

This week's blog is going to encourage you to make something for someone very important: YOURSELF! We talk about the joys of selfish knitting and why we think it's important, and our staff offers up their favorite yarns for their own selfish knitting. Click here to get inspired and read more about how to make something lovely for yourself!
---
---
Brooklyn Tweed Winter 2019
A beautiful new collection from Brooklyn Tweed has just been released, just in time to ring in the new year. This collection highlights luscious textures and bold colors, with everything from colorwork to cables highlighting their entire collection of yarns.
Check out Marte (pictured above), a simple and functional layer with beautiful attention to detail. Knit up in Loft, Marte is a beautiful vest that will carry you through seasons of the year.
Also be sure to take a look at Pascal (pictured below), a handsome colorwork cardigan made for men and women, knit up in Quarry. Seamless raglan construction is coupled with steeking to open up this cardigan. Knitting it in Quarry makes it a quick knit and makes this curious technique much more approachable
Click here to check out the entire Winter 2019 collection from Brooklyn Tweed, then click here to check out our selection of beautiful Brooklyn Tweed yarns.
---
---
Winter Hours
| | |
| --- | --- |
| Monday | Closed |
| Tuesday | 10-5:30 |
| Wednesday | 10-5:30 |
| Thursday | 10-5:30 |
| Friday | 10-8:00 |
| Saturday | 10-5:30 |
| Sunday | 12-4 |