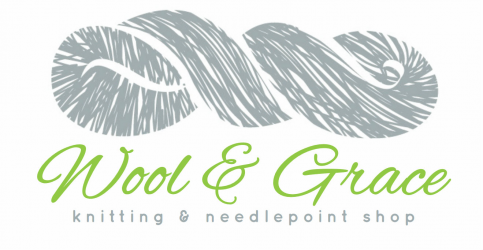 Baah is Back for the Holidays
A beautiful new shipment of yarns from Baah has just arrived, just in time for your last minute gift knitting and your holiday giving!

A big shipment of Sequoia (pictured above) has just come in with new and favorite colorways that add something special to your most simple, last-minute gifts. This super-wash bulky yarn is soft as can be and an absolute joy to knit. We love it for cowls, hats and scarves that we need to knit up in a flash - and that need to look and be very special! Each skein of is a color 85 yards and $29.

In fingering-weight La Jolla, we've received a special Christmas color called O'Christmas Tree and December's Color of the Month. O'Christmas Tree (pictured right below) is a rich blend of reds and greens that can become a beautiful holiday shawl. Meawwhile, December's Color of the Month (pictured below bottom) is a rich blue blended with neutrals - it's begging to become a pair of socks to be worn while sipping hot cocoa, a generously proportioned scarf or a soft and wearable simple sweater! Each skein of La Jolla is 400 yards of magic and $30.

Remember, you can see colors and buy Sequoia and La Jolla online!


---
---
Don't Delay! There's Still Availability In Our Classes!

Our next session of knitting classes begins the week of January 8, and while many have filled, we still have availability in some of our classes. If you've been considering joining our classes, don't delay! Also, new knitters take note - our Beginners Learn to Knit Classes have new sessions which still have space!

Knitting classes are $160. Our classes run in 8-week sessions and each class is 90 minutes. There will be no-weekly make-up sessions for our classes going forward. A make-up class will be scheduled at the end of the session.

You can learn more and sign up online by clicking the links of class titles below!

Beginners Learn to Knit
Tuesdays, 12:30pm to 2pm, January 8 to February 26
Saturdays, 10:30am to 12pm, January 12 to March 2


Beginners/Intermediate Combination Class
Wednesdays, 12:30pm - 2pm, January 9 to February 27
Thursdays, 7pm - 8:30pm, January 10 to February 28
Fridays, 10:30am - 12pm, January 11 to March 1

Intermediate Knitting
Tuesdays, 10:30am - 12pm, January 8 to February 26
Wednesdays, 10:30am to 12pm, January 9 to February 27

Materials for classes used by students must be purchased from Wool & Grace.
Knitting classes are for students ages 18 and up.


---
---


Blue Sky Fibers Kits Make Great Gifts

Knitting kits from Blue Sky Fibers feature their incredible fibers and fresh designs, and they also happen to make great gifts for the knitters in your life.

The Nevis Cowl Kit (pictured above) is a simple project knit up using 3 skeins of Blue Sky's heavenly Techno yarn. This bulky blend of alpaca, silk and merino wool and knits up quickly on US15 needles. The Nevis kit is $80 and includes yarn and pattern to complete the project. To learn more and buy online, click here!

The Quintessential Slouch (pictured below) is just that: the type of slouchy hat that every bright young thing likes to wear in cold weather! Blue Sky's version is so special in that it highlights a wide range of Blue Sky's Fibers (each becoming a stripe in this hat) behind a background knit up in Skinny Cotton. The Quintessential Slouch Kit is $32 and includes yarn and pattern required to complete this project. It comes in two colors (Navy & Taupe) and is worked up on a US8 needle. To learn more and buy online, click here!
---
---
New wool baskets from Aalta are back at Wool & Grace, and we're swooning over the bold look of these new pieces! The "Inkwell" series give these wonderful baskets a color-dipped look, with bold and strong navy on the bottom paired with a clean and timeless ivory up top. These durable baskets are finished off with sleek leather handles. The "Inkwell" series comes in 5 different sizes and range in price from $128 to $162.

We love Aalta's wool baskets for so many reasons: they are handmade in Pennsylvania, they're made of carpet fiber remnants that are fully moth-proofed, they are durable and can handle everything from your knitting and needlepoint projects to a trip to the market. Plus, they are always chic! Call us or stop by to purchase or learn more about these wonderful pieces!



---
---


Cascade's Favorites are Back in Stock!

A nice big shipment of seasonal favorites from Cascade Yarns has just arrived, including a nice big replenishment (and some new colors) of the super soft and super bulky Spuntaneous, and new colors of Cascade's very special Luminosa yarn!

Spuntaneous (pictured above) is this year's favorite super-bulky yarn - perfect for everything from blankets to quick-knitting hats and cowls. Spuntaneous is sumptuously soft and will be pleasing to even those with the most sensitive skin! Each skein is an insanely soft 109 yards and $25. Click images or links to learn more or buy online!

Luminosa (pictured below)is a special-worsted weight blend from Cascade. The inner-chainette construction has a subtle sheen and is surrounded by a soft halo of black alpaca and wool. The finished result in your knitting is a cozy and sophisticated fabric. We've been knitting up our favorite Beloved hat like crazy with Luminosa (we even have fingerless mitts to match!), but it will knit beautifully into any accessory, sweater or even blanket! Each heavenly skein of Luminosa is 240 yards and $20. Click images or links to learn more or buy online!


---
---


Ravelry Inspiration, Just in Time for the Holidays!

This week's blog takes stock of a handful of new and lovely patterns on Ravelry, which happen to be wonderful holiday knitting projects or hand-knit holiday gifts! Plus, they happen to features some of our favorite yarns. Click here to read more and learn why we happen to love this group of new patterns from a smattering of different designers!

---
---
Winter Hours
| | |
| --- | --- |
| Monday | Closed |
| Tuesday | 10-5:30 |
| Wednesday | 10-5:30 |
| Thursday | 10-5:30 |
| Friday | 10-8:00 |
| Saturday | 10-5:30 |
| Sunday | 12-4 |