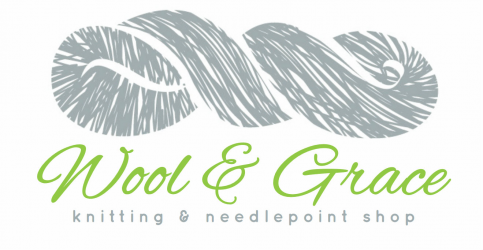 Beautiful & Timeless Elizabeth Bradley Needlepoint Kits
A gorgeous shipment of new needlepoint kits from Elizabeth Bradley has just arrived at Wool & Grace, and just in time for your holiday shopping. Elizabeth Bradley designs are traditional and chic, making the perfect heirlooms for your home.

Each needlepoint kit includes a 16"x16" printed canvas on a 20"x20" 10 mesh canvas, plus all tapestry threads and needles. With everything included in these wonderful kits, they not only make great gifts, but they are great choices for novice needlepointers!

Each kit is $230. Click images or click here to see our entire collection of Elizabeth Bradley Needlepoint Kits!


---
---
New Knitting for New Years!

The first session of knitting classes for 2019 is now available for signup online and in-store at Wool & Grace! Plus, we have new sessions of Beginners Learn to Knit for aspiring knitters! Our next sessions are listed below. Click on class names to sign up on line, or stop by or call 908.277.1431 to sign up!

Beginner's Learn to Knit
Tuesdays, 12:30pm - 2pm, January 8 to February 26
Fridays, 12:30pm - 2pm, January 11 to March 1
Saturdays, 10:30am - 12pm, January 12 to March 2

Beginners/Intermediate Combination Class
Wednesdays, 12:30pm - 2pm, January 9 to February 27
Wednesdays, 7pm - 8:30pm, January 9 to February 27
Thursdays, 7pm - 8:30pm, January 10 to February 28
Fridays, 10:30am - 12pm, January 11 to March 1

Intermediate Knitting
Tuesdays, 10:30am - 2pm, January 8 to February 26
Tuesdays, 7pm - 8:30pm, January 8 to February 26
Wednesdays, 10:30am to 12pm, January 9 to February 27
Thursdays, 10:30am - 12pm, January 10 to February 28

Materials for classes used by students must be purchased from Wool & Grace.
Knitting classes are for students ages 18 and up.

Please note that beginning in 2019 we will no longer offer weekly make-up classes.
A make-up class will be scheduled at the end of the session.


---
---


Vogue Knitting Holiday 2018 Issue is Here!

The beautiful Holiday 2018 issue of Vogue Knitting is at Wool & Grace! This gorgeous new issue includes striking sweater designs by notable designers like Norah Gaughan, Deborah Newton and Mari Lynn Patrick. Striking accessories projects from Nancy Marchant, Amy Herzog and Cecelia Compochiaro dot this issue. Instructional articles and profiles of knitting icons Arne & Carlos and up and comer Nacinimod Deodee add some pure reading pleasure to this lovely issue.

The Holiday Issue of Vogue Knitting includes 22 patterns and a whole lot more, all for $7.99. Click here or click images to learn more or buy online!
---
---
Wishlist Inspiration from Maggie!
As you start to finesse your own Wool & Grace Wishlist for this holiday season, it's hard to not be a little inspired by our expert instructor Maggie's!

First on Maggie's list is some Noro Ito yarn: she's hoping to knit up their one-ball cowl over the holidays! Even the most seasoned knitters like Maggie are continually inspired by Noro Yarns. The color changes are exciting and it makes for a simple project to knit in the midst of busy holidays. Each ginormous ball of Ito is $45.




Maggie is also smitten with Atenti's Mamallama Bags (aren't we all!) - and we have a few left, including a Tall Caddy and a carry-it-all Excel bag!




Lastly, Maggie would like some Extra in Nocturne from Blue Sky Fibers. This sumptuous blend of merino and alpaca is great for all of your knitting projects and a delight to work with. Maggie's hoping to use her Extra to knit up a Turtle Dove sweater, because every practical knitter should make themselves one of these! Each skein of buttery-soft Extra is $29.75.



---
---


It's Blanket Knitting Season

This week's blog is about the joys and benefits of blanket knitting. Proclaimed by our awesome instructor Alex, it is blanket knitting season! Keep your lap warm, queue up Netflix and start knitting. But the joys and benefits of blanket knitting goes beyond using our knitting project to keep us warm throughout the cold-weather months. Click here to keep reading about why we love to knit blankets so much - and of course - get tons of great ideas about which blanket you can knit next!
---
---
Winter Hours
| | |
| --- | --- |
| Monday | Closed |
| Tuesday | 10-5:30 |
| Wednesday | 10-5:30 |
| Thursday | 10-5:30 |
| Friday | 10-8:00 |
| Saturday | 10-5:30 |
| Sunday | 12-4 |