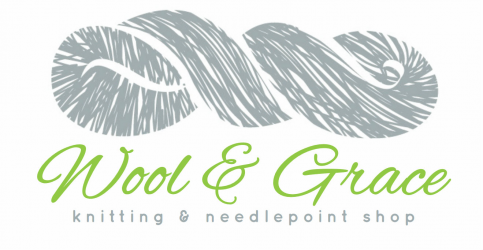 New Shipment from Atenti!
Just in Time for the Holidays!
A big shipment of beautiful bags from Atenti has just arrived at Wool & Grace, and just in time for the holidays! We love how Atenti keeps it fresh with new prints and shapes, but still can't get enough of that Mamallama! Atenti bags are designed and made in the USA with smart pockets and detachable straps to make them perfect for your knitting, crochet and needlepoint projects, and so much more!

Click pics above to see some of our new arrivals, or click here to see our selection of Atenti bags available online!


---
---
Oooh Ushya!

It's that time of year when we want to knit up thick and warm knits, and Mirasol's Ushya fits the bill. This super-bulky yarn is made of super soft and warm merino wool, but it's chainette construction keeps it light. We're always looking for fun things to do with Ushya, and our very own Maggie came up with this beautiful (and easy to knit) Slip Stitch Hat. One skein of this delightful yarn will knit up a hat and make a perfect pompom! Each skein of Ushya is 115 yards and $20.

Stop by and pick up your skein of Ushya today, and be sure to request your copy of the Slip Stitch Hat (free with purchase!). Or buy online here!



---
---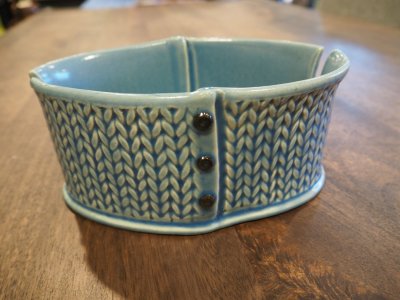 Keep Your Yarn in Check with a Yarn Bowl

There's no better way to keep your yarn from flying around the house than with a yarn bowl. Thanks to some creative artisans, it's also a beautiful way to keep your yarn in check! Stop by to check out our selection of beautiful yarn bowls from the likes of Creative with Clay and Pawley Studios. These gorgeous yarn bowls are all made in the USA and add a little style to your knitting nooks.

The Knitted Yarn Bowl by Creative with Clay (pictured above) is $75 and available in 4 colors. Click here to see our selection of Knitted Yarn Bowls.

The Grey Sheep Yarn Bowl by Pawley Studios (pictured below) is $72. Click here to learn more or buy online!

Click here to see our selection of yarn bowls available online!
---
---
What's On Your Wool & Grace Wish List?
It's time to put together your own holiday wish list, and don't forget all the goodies you've been eyeing at Wool & Grace! Whether it be some special yarn or an indispensable set of interchangeable needles, we have everything for your knitting needs.




We also asked our savvy staff what's on their holiday list, and over the next few weeks we'll highlight the tools and fibers our employees have marked on their list!

Sarah is always the organized knitter, and she's put a Que Grand Circular Needle Case from Della Q on her list! This circular needle case is perfect for epic knitters like Sarah, or anyone who happens to have tons of needles they need to keep organized. The Que Grand is $84 and comes in a variety of fabrics!

Sarah also loves the new bags from Atenti that come with their own Pompom. The Freemont Dolly (pictured at bottom) is roomy enough for large knitting projects, and chic enough to carry out own the town. The Freemont Dolly can do it all and is $175.




---
---

Distracted Knitting

Sometimes our knitting requires our mental focus, which can be engaging and challenging and great for our overall brain health. Other times, we can get distracted from our knitting. This may be planned or accidental, but it's a reality! This week's blog meanders a bit, but touches on the impacts (both good and not so good) of distracted knitting. Click here to read about our own and others' adventures in distracted knitting!
---
---
Winter Hours
| | |
| --- | --- |
| Monday | Closed |
| Tuesday | 10-5:30 |
| Wednesday | 10-5:30 |
| Thursday | 10-5:30 |
| Friday | 10-8:00 |
| Saturday | 10-5:30 |
| Sunday | 12-4 |