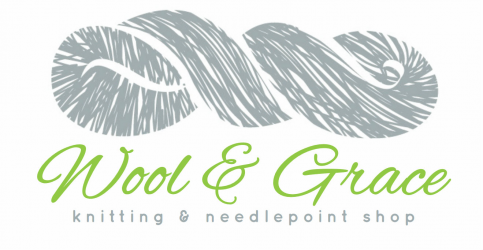 Happy Thanksgiving from Wool & Grace!
A warm and heartfelt Happy Thanksgiving from all of us at Wool & Grace. We are so thankful for our amazing community of knitters, crocheters and needlepointers who make Wool & Grace full of energy and creativity. We hope you are all home with family and full bellies, and we'll look forward to seeing you over the holiday weekend on Friday, Saturday and Sunday.





Wool & Grace Sale This Weekend!

As a thank you to our amazing commuity of stitchers, we are having a sale this Friday, Saturday and Sunday! Stop by to enjoy 20% off of yarn and needlepoint canvases! Our enthusiastic staff will help you find just what you need for your next project or to help you put together the perfect gift for all of the stitchers in your life!

We'll be operating with normal business hours Friday through Sunday, as follows:
Friday 10am to 8pm (open late for Knit Night)
Saturday from 10am to 5:3pm
Sunday from 12pm to 4pm


---
---
Baah La Jolla: The Bold and the Beautiful
A huge shipment of yarn from Baah just arrived, and it is bursting with bold and beautiful colors of Baah's La Jolla. This fingering-weight yarn feels smooth as silk, but it's made of a super-wash wool that is easy on the hands and flies off your needles. This shipment is teeming with Baah's signature bright and happy hand-dyes.

Come and check out everything this beautiful new selection of yarns has to offer. Knit up everything from socks, scarves, shawls, baby sweaters and adult sweaters with this versatile yarn. Each skein of Baah's La Jolla is a gorgeous 400 yards and $30. Check it out in store and online here!


---
---
Check out Chunky Walnut, a new fast and favorite hat pattern at Wool & Grace. This distinct design from Katrin Schubert is absolutely perfect knit up in Brooklyn Tweed's Quarry, and is a layup for anyone that can knit, purl, do an increase and a decrease. Chunky Walnut will knit up quickly and look chic! Stop by Wool & Grace to check out our sample and pick up the yarn and needles for this fun and fast project, or buy online here!
---
---
Donate Hand Knits to the Santa Claus Shop!

During this holiday weekend, please remember the Santa Claus Shop of Summit, New Jersey!

Once again, we are asking our generous knitters to bring hand knit donations for the

Santa Claus Shop of Summit, NJ. This wonderful organization collects gifts for local families in need. On November 28, families identified by social services in three communities will be invited to enjoy a dignified, free shopping experience with goods provided by area residents and businesses. For the past several years, our talented knitters have generously donated countless hand knit and crocheted hats, mittens, scarves and cowls for this wonderful cause.

They especially love to receive hats and mittens for children of all ages (including babies and toddlers)!



Please consider knitting and donating hand knits for this wonderful, local organization. Please bring unworn items for donation.

We will be collection donations until November 27.

Please email us at

info@woolandgrace.com

if you have any questions. If you'd like to learn more about the Santa Claus Shop,

please click here!
---
---




Know When To Hold 'Em
This week's blog post is about hitting a knitting wall, getting frustrated with our projects and wanting to give up. Most knitters experience this, especially as they take on more challenging and lengthy projects. Check out this week's blog as we reflect on these typical frustrations, and how we can get through them. We hope this week's post will give you the encouragement you need to stick with some of those "problem projects."

---
---




This Just In: New Bags from Atenti!



We just received a beautiful shipment of bags from Atenti, including the ever popular Mamallama totes! We have project bags in all sizes, and in some brand new fabrics (that are so new we don't even have pics of them!). Stop by to see the entire selection, or check out our Atenti bags online! (Pictured above, the Mamallama Hope Basket, $90)
---
---
Thanksgiving Week Hours
| | |
| --- | --- |
| Monday | Closed |
| Tuesday | 10-5:30 |
| Wednesday | 10-5:30 |
| Thursday | Closed |
| Friday | 10-8:00 |
| Saturday | 10-5:30 |
| Sunday | 12-4 |