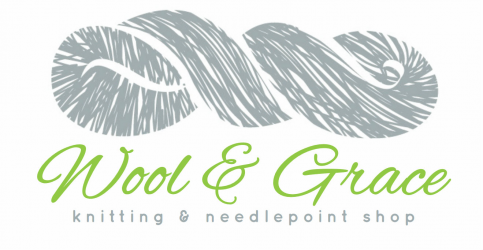 Noro Ito is Back!
Noro's best selling yarn EVER, Ito, is back in stock at Wool & Grace. We are obsessed with this explosion of color, brought to you in a ginormous but tidy ball of yarn. Irresistible color combinations effortlessly knit up into high impact knits, whether they be scarves, cowls, mittens, hats, blankets or sweaters. Ito is an aran-weight yarn made of 100% wool, and it softens dramatically after its first blocking. Each skein is 437 yards and $45.

We are in love with Rosemary Drysdale's simple cowl, called Cowl #9, pictured above. This striking accessory is knit up as a simple seed rib rectangle and seamed for its great shape. Two new colors of Ito are now available at Wool & Grace! Click here to buy online or learn more - or stop by to snag your own ball and grab this easy and satisfying cowl pattern with your purchase of Ito!


---
---
We Couldn't Get Enough of Mohair So Soft

We had so much fun with our pals from Loopy Mango with their new yarn Mohair So Soft that we HAD TO GET MORE! This incredible yarn is so light, so warm and (of course) so soft! 1 or 2 skeins will quickly knit into a hat (like the beautiful beret, pictured below) while 4 skeins will knit into a simple Stockinette Scarf (pictured above). Using size US17 to US19 needles does the best work with this yarn, giving the mohair room to be its most luxurious self.

Each skein of Mohair So Soft is delightful to knit, 65 yards and $19. Click here to learn more and buy online. Remember, Loopy Mango patterns are free with purchase! If you are interested in a pattern, be sure to let us know at the time of your purchase!


---
---


Donate Hand Knits to the Santa Claus Shop!

For another year, we are asking our generous knitters to bring hand knit donations for the Santa Claus Shop of Summit, NJ. This wonderful organization collects gifts for local families in need. On November 28, families identified by social services in three communities will be invited to enjoy a dignified, free shopping experience with goods provided by area residents and businesses. For the past several years, our talented knitters have generously donated countless hand knit and crocheted hats, mittens, scarves and cowls for this wonderful cause. They especially love to receive hats and mittens for children of all ages (including babies and toddlers)!

Please consider knitting and donating hand knits for this wonderful, local organization. Please bring unworn items for donation. We will be collection donations until November 27.

Please email us at info@woolandgrace.com if you have any questions. If you'd like to learn more about the Santa Claus Shop, please click here!
---
---
This week's blog is all about gift knitting! As you prepare for the holidays and starting knitting for your nearest and dearest, choose projects that will be joyful for you to knit! This week's blog talks about choosing projects that aren't just beautiful, but that are manageable! Plus, we have tons of ideas for some great gift knitting projects. Click here to keep reading and to get inspired for gift knitting season!




---
---

For Every Knitter's Wish List

It's widely agreed among the knitters at Wool & Grace, nothing beats the a set of interchangeable knitting needles. Your knitting needles are the ultimate knitting tool, and there's nothing better than having your needles organized and in one place
.

Lykke Interchangeable Needle Sets in Driftwood, Indigo and Umber are back in stock, and we have our favorites from Addi and Loopy Mango available as always! Not sure where to start? Check out our old blog which explores the benefits of the various needle sets. Or, see what's available online and in store by clicking here!
---
---
Fall Hours
| | |
| --- | --- |
| Monday | Closed |
| Tuesday | 10-5:30 |
| Wednesday | 10-5:30 |
| Thursday | 10-5:30 |
| Friday | 10-8:00 |
| Saturday | 10-5:30 |
| Sunday | 12-4 |