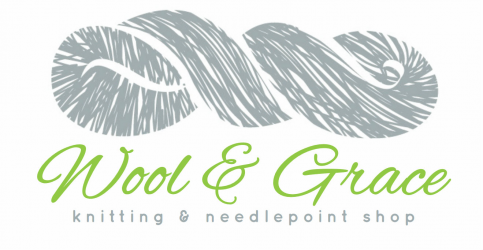 Meet Mohair So Soft
Our Fall Loopy Mango Trunk Show is TOMORROW, October 27 from 1-4pm - and this is your opportunity come and meet their sublimely soft new yarn, Mohair So Soft. Mohair So Soft is a dreamy blend of mohair and merino wool in a Loopy Mango signature super-bulky weight. Effortlessly knit up chic and fuzzy projects with this lovely (and warm!) yarn. Loopy Mango will be bringing trunks of samples to inspire you - for everything from hats, scarves and wraps to sweaters, dresses and blankets! Each skein of Mohair So Soft is $19 and 65 yards.

Plus, come during our trunk show to get 10% off your Loopy Mango purchase!


---
---
Get Organized with Della Q
A nice big shipment of knitting needle cases from Della Q is new at Wool & Grace. These smart pouches are the best, and cutest way to keep your circular needles organized.

Della Q needle cases come in a variety of sizes! This is what's new:
The DPN + Circular (pictured above left) case accommodates circular and straight DPNs (up to 8" in length), with 14 pockets for your circular needles and 17 pockets for DPNs. This versatile case comes in a variety of colors/prints and is $69.

The Que Theo (pictured above right) is a compact but spacious case for your circular needles, with 12 numbered pockets for a variety of needle sizes. Pockets have secure closure and you can easy fit multiple sets of circular needles in each pocket. The Que Theo is $49 and comes in various colors and prints.

The Que Grand is for serious needle hoarders. Similar to the Que Theo, it accommodates several sizes of circular needles, with 24 pockets, all with secure closure to accommodate multiple needles if necessary. The Que Grand is $84 and comes in various colors and prints.

Feel confident and organized knowing where to find all your knitting needles. Click here to see everything available from Della Q, and follow the links to learn more and buy online!


---
---

Join Us For Our Next Wool & Grace Book Group!

We are delighted to announce our next Wool & Grace Book Group book choice: Educated, a memoir by Tara Westover. This memoir follows Westover's upbringing among an isolated, survivalist family in rural Idaho. She doesn't step foot into a classroom until she is 17 years old, and we can't wait to read about how learning, books and education factor into her experience. This incredible story has earned tons of accolades and attention, and we know it will begin another thoughtful and interesting conversation among our Wool & Grace community. Please check out our blog to learn more, and if interested please email us at info@woolandgrace.com to sign up!
---
---
Now that it's sufficiently cold, it's a great time to cast-on and knit some more blankets! Our favorites are knit up in soft, warm and thick yarn like Cascade's Spuntaneous - in part because they knit up fast! Check out this spectacularly soft new yarn at Wool & Grace, and you'll see why we are so smitten with it and our Spectacular Spuntaneous Blanket (the super-soft sample is at the shop!)

Spuntaneous is a super-bulky, roving yarn made of 100% merino wool. Each skein is 109 yards and $25. Our Spectacular Spuntaneous Blanket (pictured below) is knit up using 5 skeins of Spuntaneous on a US19 needle. Follow our simple striping instructions or get creative to make your own color combination!


---
---


What's New from Blue Sky Fibers
Blue Sky Fibers brings us classic and beautiful yarns that we want to work with year after year, but they also keep bringing us fresh designs so we always have something new to knit up in our favorites.
This season, we are loving the Vermillion Vest (pictured above) knit up in Blue Sky Fibers' Woolstok. This easy cabled vest is a great layering piece with a simple cable motif and a wide lapel. This light piece has a lot of look. You'll need 9-12 skeins of Woolstok and US9 needles to knit up this beauty! Each skein of Woolstok is 123 yards and $9.
The Dover Duster (pictured below) is a striking and sleek duster cardigan knit up in Blue Sky Fibers' Extra. This high-twist blend of merino & alpaca bounces off your needles and is exceptionally soft. The Dover Duster is knit up using a rhythmic brioche stitch and uses 10-17 skeins of Extra on a US9 needle. Each skein of Extra is 218 yards and $29.75.
---
---
A Few More Items...
Check out the Brooklyn Tweed Trunk Show!
Our Brooklyn Tweed Trunk Show departs next week, so come see these beautiful and inspiring pieces between now and Sunday! This collection features sweaters, blankets and wraps that are easy to wear, knit up in Brooklyn Tweed's woolen-spun yarns Loft, Shelter and Quarry
!
Wool & Grace Now Open Sundays
Now that Fall is in full swing, we are open on Sundays from 12-4! You can get your stitch fix all weekend long!


This Week's Blog: Riding a Kate Davies Wave
Check out this week's blog in which we discuss recent and current projects featuring Kate Davies patterns. We discussed this thoughtful designers work earlier in the fall, and by now we are riding a wonderful wave of knitting up Kate Davies projects. We love their clever simplicity and the fact that these projects are wonderful for all skill levels of knitters!. Click here to read more!
---
---
Fall Hours
| | |
| --- | --- |
| Monday | Closed |
| Tuesday | 10-5:30 |
| Wednesday | 10-5:30 |
| Thursday | 10-5:30 |
| Friday | 10-8:00 |
| Saturday | 10-5:30 |
| Sunday | 12-4 |