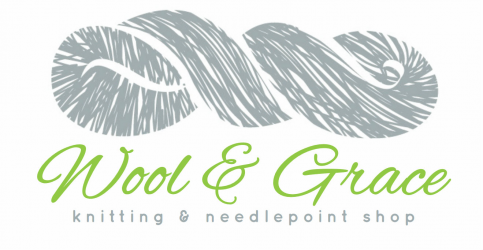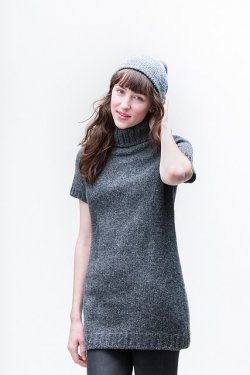 A beautiful Brooklyn Tweed trunk show is going strong at Wool & Grace. This glorious collection features pieces knit up in Shelter, Loft and Quarry, which are exactly the type of yarns you want to knit and wear now that we are in sweater weather!

One of the best things about seeing these beautiful trunk shows is to see how beautifully these special woolen-spun yarns wear and how beautifully they soften with time. There's a little of everything in this collection, from easy pieces for aspiring sweater knitters, to intricately cabled and constructed wraps and garments. Agnes (top left) and Roslyn (top right) are two incredibly wearable pieces that let knitters relish these lovely yarns and focus on thoughtful construction. This Brooklyn Tweed trunk show will be at Wool & Grace until October 28.

Mark Your Calendar:
Loopy Mango Trunk Show Coming Soon!

Attention Loopy lovers, super bulky lovers and fuzzy-yarn lovers! A sensational trunk show will be at Wool & Grace for ONE DAY ONLY on Saturday, October 27 from 1pm - 4pm! Loopy Mango will join us to show off wonderful projects in our perennial favorite Merino No. 5 and to introduce their new yarn, Mohair So Soft to our community of knitters. Fun and easy projects will be on hand to try on, touch and inspire you. This trunk show doesn't last long, so be sure to mark your calendar and show up for this fun afternoon!



---
---
Don't Delay! Sign Up for Knitting Classes NOW!
As usual, our knitting classes fill up class - but a handful of classes still have availability. If you're thinking of signing up, don't delay any longer!


Beginners/Intermediate Combination Class
Wednesdays, 12:30pm - 2pm, November 7 to January 2
Thursdays, 7pm - 8:30pm, November 8 to January 3
Fridays, 10:30am - 12pm, November 9 to January 4

Intermediate Knitting
Tuesdays, 10:30am - 2pm, November 6 to January 4
Wednesdays, 10:30am to 12pm, November 7 to January 2

Materials for classes used by students must be purchased from Wool & Grace.
Knitting classes are for students ages 18 and up.

Make-ups for all knitting classes take place on Tuesday afternoons from 12:30 to 2pm or Saturday mornings from 10:30am to 12pm.
Make-up classes should me made within the session in which you're enrolled.

Please note that this session runs from November 6 to January 4, which is 9 weeks. We have added an additional week because of the busy holiday season. This week is considered a "make-up" week - many classes will be getting 9 sessions for the price of 8! For our Tuesday sessions, we have added this additional week to allow more time for a make-up during this session.
---
---


Tons and Tons of New Madeline Tosh!

A big, big BIG shipment of MadelineTosh yarns arrived to Wool & Grace this week! We are fully restocked in colors galore of Tosh Merino Light, have sweater quantities of worsted-weight Vintage and are happy to welcome Home back for some cold-weather accessories and awesome gift knitting!
Tosh Merino Light is MadelineTosh's 100% merino, single-ply, fingering weight yarn. This incredibly soft yarn takes in MadelineTosh's signature hand-dyes so beautifully, and is a favorite for scarves, shawls, sweaters, hats and mitts for all ages. Plus, we have a fun selection of colors that feature MadTosh's Holo Glitter! Machine-wash cold and lay flat to dry. Each skein is 420 yards and $24 to $24.50.
Vintage is a worsted-weight workhorse with a bit of flair. Tons of twist make this super-wash yarn easy to knit, easy to wear and easy to care for. Our knitters love to use this yarn for absolutely everything - and it truly can do it all! If you have been coveting 4 skeins to make up our Simply Irresistible Wrap (pictured below) in its sample color, don't hesitate and snag your four skeins of Court & Sparkle to make this wrap for yourself! Each skein of Vintage is 200 yards and $24.
Home is a plied, bulky-weight yarn made of a super-wash merino. Each dreamy skein is like a work of art, and one is enough to knit up a unique and striking hat, pair of mitts or little cowl. We love Home for gift knitting, so much so that this week's blog is filled with ideas of what to make with this glorious yarn. Each skein of Home is $24 and 110 yards.
---
---
Gift Knitting with Glorious Hand Dyes
We are ready for gift knitting at Wool & Grace! This means that we are fully stocked with big and bulky yarns that quickly knit into one-of-kind, coveted-like-crazy handmade gifts! New shipments of yarn like Malabrigo's Rasta, Gedifra's Giotto Colore Molto Grande, Loopy Mango and Cascade's Spuntaneous mean we have oodles of big thick stuff to choose from.

This week's blog focuses on two very special yarns: MadelineTosh Home and Baah's Sequoia. These incredible hand-dyed yarns are supremely soft and knitting with each one is like working with a piece of art! They effortlessly knit into unforgettable pieces. Check out this week's blog to see our plethora of suggestions of what to make with these beautiful yarns. We have no doubt that you'll bang out a number of gifts with these beauties (and we hope that you might keep one for yourself!




---
---


Stitch On with Kirk & Bradley!
Our recent trip to the Dallas Needlepoint Show let us bring back TONS of new needlepoint canvases from Kirk & Bradley and their British cousin, Burnett & Bradley. These timeless and traditional needlepoint companies reliably bring us pieces that can become heirloom ornaments, pillows, framed pieces and more. But you can be creative and turn these works of art into functional like totes and zippered bags!
To see all of the new canvases from Kirk & Bradley, click here!
To see all the new canvases from Burnett & Bradley, click here!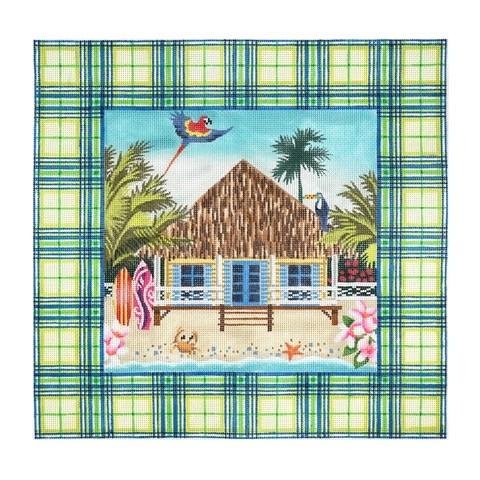 ---
---
Fall Hours
| | |
| --- | --- |
| Monday | Closed |
| Tuesday | 10-5:30 |
| Wednesday | 10-5:30 |
| Thursday | 10-5:30 |
| Friday | 10-8:00 |
| Saturday | 10-5:30 |
| Sunday | 12-4 |