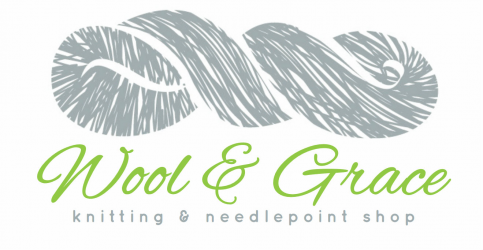 Binkwaffle is Back!


Adorable project bags from Binkwaffle are back in stock at Wool & Grace! We have a selection of new prints in their large and small Dumpling Bags, as well as their clever Wristlet Clutches which are perfect for your notions, or for carrying essentials in your handbag! Dumpling bags are fully reversible. Small Dumplings are perfect for small-to-medium knitting and crochet projects, while Large Dumplings are great for your medium-to-large knitting and crochet projects! Another reason to love Binkwaffle is that they are designed and handmade in the US!

Small Dumplings are $39, Large Dumplings are $59.
Wristlet Clutches are $29.

To see our entire selection of Binkwaffle and to buy online, click here!


---
---
Subtle Shimmer: Cascade's Luminosa
Luminosa is a lovely, aran-weight alpaca yarn with a hint of sparkle from Cascade Yarns. This shimmering blend of alpaca and viscose knits and crochets into beautiful accessories, although it splashed onto the scene in last year's Vogue Holiday edition with Mari Lyn Patrick's Curve Cable Pullover. We love Cascade's Simply Shimmering Stole (pictured below), a free pattern from Cascade that woks up quickly with 4 skeins of Luminosa. Whether you want to make something big or small, you'll work quickly through your projects on anything from a US8 to US10 needle. Each skein of Luminosa is 240 yards and $20. See all of our colors and buy online here.
---
---
We've been leading up to this week's blog for a couple of weeks - and this week we delve into the world of Kate Davies. Davies is a prominent designer of hand-knitting patterns. An authority on Scottish knitting traditions, she adds a touch of whimsy and modernity to these shapes and motifs. As it turns out, she's an incredibly interesting individual. Check out this week's blog to learn more about this fascinating woman and see some of our favorite patterns (new and old) from this one-of-a-kind designer.
---
---
Fall Knitting Classes: A Few Openings Left!
Our fall knitting classes begin soon, and we have a few sessions that still have availability! If you are been waiting to sign up for your class, please don't hesitate further. Classes that still have availability are as follows


Beginners/Intermediate Combo Classes


Wednesdays, September 12 to October 31 from 12:30 to 2pm



Intermediate Knitting


Tuesdays, September 11 to October 30 from 10:30am to 12pm




Wednesdays, September 12 to October 31 from 10:30am to 12pm





Click the links above for each category of class to sign up online!




Please remember, classes are for participants ages 18+. Please use yarn purchased from Wool & Grace for your in-class projects.
---
---
Atenti Bags Back in Stock: New Shapes & Fabrics!
A new shipment of beautiful bags from Atenti has just arrived to Wool & Grace. We love these unique and chic bags for anything, whether you use them as project bags for your knitting, crochet and needlepoint - or just take them on the go! Designed and handmade in the US, each one is a special limited edition.

The Dolly tote is now available in the beautiful gray Mamallama fabric (pictured above) for $169. The Hope Basket is a new shape from Atenti, and is available in the gorgeous "Casablanca" fabric (pictured below) for $89.

There are plenty more shapes and fabrics available, so stop by the shop to see the full selection, or check out what's available to buy online!


---
---


Summer Hours
| | |
| --- | --- |
| Monday | Closed |
| Tuesday | 10-5:30 |
| Wednesday | 10-5:30 |
| Thursday | 10-5:30 |
| Friday | 10-5:30 |
| Saturday | 10-5:30 |
| Sunday | Closed |